Ilayathalapathy Vijay's "Yaendi Yaendi" song teaser, which was released on Friday, 24 July, evening, has gone viral among Kollywood cine-goers, registering massive hits on YouTube.
In less than 20 hours, the "Yaendi Yaendi" song teaser from the upcoming film "Puli" has got close to 3.50 lakh views. Sony Music's strategy to build positive vibes around the audio track through the teaser has paid off, going by the response from Kollywood movie buffs who seem to be loving the song.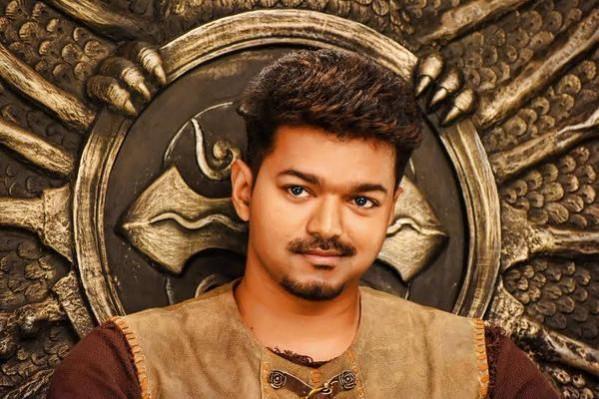 The song teaser, which was released by Sony Music directly online, is expected to cross the 5-lakh viewership mark in a day.
"Yaendi Yaendi" is a melodious, romantic track composed by Devi Sri Prasad. Lead stars Vijay and Shruti Haasan have sung the song, which has been penned by Vairamuthu. The song has been dedicated to Illayaraaja by the music director.
Vijay fans are happy with the track and the overall mood is sure to boost the sales of the audio, which will be released on 2 August in Chennai.
Below, we bring you the video and the lyrics of the song:
Vaanavil Vattamaagudhae
Vaanamae Kitta Varudhae
Megangal Mannil Irangi
Thogaikku Aadai Kattudhae
Iravellam Veyilaagi Poga
Pagallelaam Irulaagi Poga
Paruvangal Vesham Podudhae
Adi Yaendi Yaendi Enna Vaatura
Adi Yaendi Yaendi Kannaal Theetura
Adi Yaendi Yaendi Nenja Killura
Adi Yaendi Yaendi Kaadhal Kadalil Thallura
Vaanavil Vattamaagudhae
Vaanamae Kitta Varudhae
Megangal Mannil Irangi
Thogaikku Aadai Kattudhae
Iravellam Veyilaagi Poga
Pagallelaam Irulaagi Poga
Paruvangal Vesham Podudhae
Adi Yaendi Yaendi Enna Vaatura
Adi Yaendi Yaendi Kannaal Theetura
Adi Yaendi Yaendi Nenja Killura
Adi Yaendi Yaendi Kaadhal Kadalil Thallura