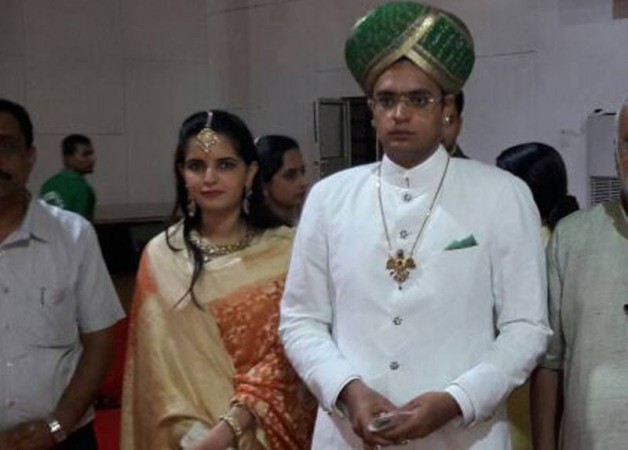 The Mysuru (Mysore) Palace is decked up to hold the first marriage in four decades in its precincts. The 27th scion of the royal family, Yaduveer Krishnadatta Chamaraja Wadiyar, is getting married to Trishika Kumari Singh, who belongs to the royal family of Dungarpur and is the daughter of Harshavardhan Singh and Maheshri Kumari, on Monday, June 27.
The wedding rituals started on Friday, June 24. "As per the Wadiyar dynasty's traditions, the palace priests began the rituals in the presence of Yaduveer, queen mother Pramoda Devi and other family members," an official told IANS.
Yaduveer had his 'yenne snana' (oil bath) in the wee hours of Saturday. The vara puja will be held on Sunday. The family also performed padapuja to Parakala mutt's Sri Abhinava Vageesha Brahmatantra Swatantra Parakala Swamiji.
The marriage will be performed as per Hindu customs during the Karkataka lagnam between 9.05 am and 9.35 am. The ceremony will come to an end with a reception on June 28. Another reception will be organised at the Bengaluru Palace on July 2.
Bride Trishika Kumari Singh's family is already in Mysuru and staying at a five-star hotel. Before entering the palace on Sunday, they will perform nandi puja, chaparadatar puja and ganapathi homa, reports add.
According to the Times of India, the family has invited bigwigs from the political fraternity and diplomats from across the world to attend the event. The guest list includes the names of Prime Minister Narendra Modi, President Pranab Mukherjee, Congress president Sonia Gandhi, and Karnataka Chief Minister Siddaramiah, and diplomats from countries such as the United States, Germany, France and Switzerland.
Scions from royal families of Rajasthan, Gujarat and Madhya Pradesh are said to have been invited for the ceremonies. Grand arrangements have been made for the 2,500 VIP guests expected to attend the marriage at the Durbar Hall.
Only those with valid passes will be allowed to enter the premises. However, huge screens are expected to be put up outside the palace for the public to watch the proceedings.
Yaduveer is a graduate from the Massachusetts University in Boston. He was adopted in the family in February 2015 and crowned as the titular 27th Maharaja on May 28, 2015. He is the grandson of Gayathri Devi, the eldest daughter of the last reigning maharaja, Jayachamarajendra Wadiyar.