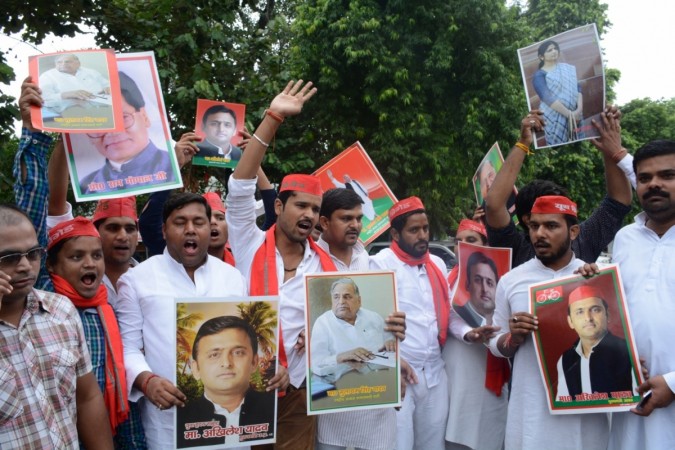 Less than a week after Mulayam Singh Yadav had brokered peace between his warring son and brother over the position of state chief of the party, Shivpal Singh Yadav expelled seven Akhilesh loyalists.
Among the seven were three MLCs, all close to Uttar Pradesh Chief Minister Akhilesh Yadav. They were reportedly removed from the party for raising objectionable slogans against Samajwadi Party head Mulayam Singh. On Sunday, Shivpal Singh had expelled a relative of national secretary Ramgopal Yadav, who is an Akhilesh supporter.
The seven leaders are Sunil Singh Yadav, Vidhan Parishad member-MLC and youth leader, Anand Bhadauria - Vidhan Parisad member-MLC and youth leader, Md Ebad - state president of Youth Brigade, Brijesh Yadav - state president Samajwadi Yuvjan Sabha, Sanjay Lathar - Vidhan Parishad member-MLC and youth leader, Gaurav Dubey - national president of Youth brigade and Digvijay Singh Deo - state president of Chatra Sabha.
Arvind Pratap Yadav, Ramgopal's nephew and MLC, was fired for "indiscipline and anti-party activities" on Sunday. The move came after Mulayam Singh said that Ramgopal was his No. 2 in an interview with the Hindustan Times. Ramgopal had also made a list of potential candidates for the Assembly elections 2017.
Akhilesh and Shivpal had publicly fought over the UP CM's removal as party state chief. Akhilesh in response had withdrawn crucial portfolios from Shivpal leaving only social welfare in his hands. Shivpal, a key strategist for the upcoming elections, reacted by sending resignation letters from his positions in the party and the Cabinet. Mulayam Singh had to intervene, while his brother and son were battling for power in public view.
Mulayam Singh had said that as long as he was there, the party would not divide, after rumours about a split between the warring factions had been rife. The matter was settled with Akhilesh refusing to accept the resignation and Shivpal being reinstated.