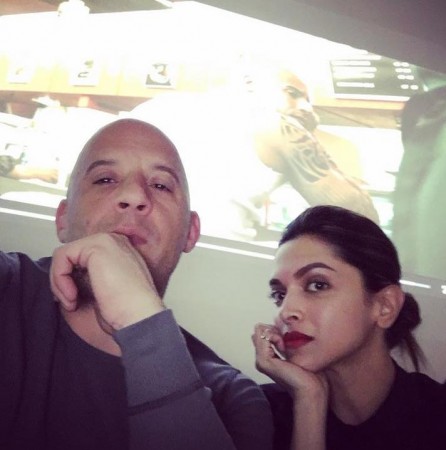 The first pictures from the sets of Deepika Padukone's "XXX: Return of Xander Cage" have gone viral, and now director of the film DJ Caruso has surprised everyone with his major revelation. The leading lady will have some steamy scenes with co-star Vin Diesel.
Answering to one of the tweets, the filmmaker said the "XXX" stars will have an intimate scene in the film. And now, a photo of two getting really close are doing the rounds of social media.
Meanwhile, back home beau Ranveer Singh is extremely thrilled about his ladylove taking massive steps in the international grid. He shared a photo of a cab on social media, which had the letters "XXX" written next to the number plate.
All of this will surely have people talking, but what triggered the buzz were her workout videos for the film and her role in it. Padukone, who shared clips from her intense workout sessions, will apparently play Cage's (Diesel) ex-lover and a huntress in the sequel.
Looking stunning and ready to shine, Padukone said she was excited but also a bundle of nerves. "Sometime you try everything in your capacity to make somethings work and they don't and sometimes things fall into your lap and things work around it and this was one such moment. Very, very exciting times ahead of me. I'm nervous but hope it's fun and I do well and make everyone proud," NDTV quoted her as saying.
Clearly she is thrilled about what's going on in her career right now, but she is taking it slow and so hasn't signed any Hindi films yet. ""Once I'm back I will decide," Padukone added.