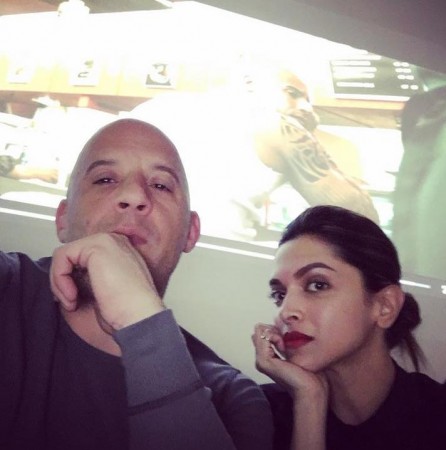 Deepika Padukone is into her first Hollywood movie "XXX: The Return of Xander Cage", but the director of the film seems very impressed with the actress. Director DJ Caruso recently shared a photo that is an actual still from the movie.
The new still shows Deepika along with co-star Vin Diesel, and the actress looks certainly ravishing. The director shared the photo on Twitter with the caption: "Watching dailies this morning. #DeepikaPadukone makes my job easy. (sic)"
"Dailies" in film-making parlance refers to unedited footage. The makers of the film have been releasing different stills from the movie, and they are certainly creating a good hype around it. "XXX: The Return of Xander Cage" is the third instalment of the "XXX" franchise.
Deepika, who is playing the role of a huntress, will be seen as the Hollywood actor's love interest in the film. Deepika's fans are super-excited to see their favourite actress sharing screen space with big Hollywood names like Vin, Tony Jaa, Ruby Rose and Nina Dobrev.
There are reports that Deepika and Vin will have some intimate scenes in the movie as well. Another still from the movie appeared some days ago showing the two stars in a romantic moment in the film.