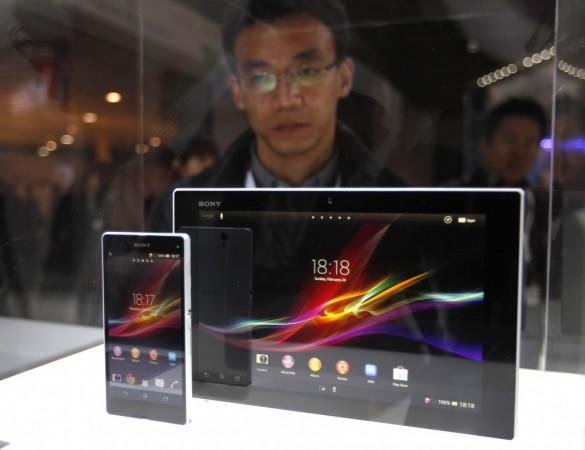 Two months after its unveiling at the Consumer Electronics Show in January, Sony's flagship Xperia Z smartphone is entering the India market in a few days.
Sony's rival Apple had launched iPhone 5 in India more than three months ago, and it is recording huge sales in the sub-continent as well as in other regions across the world.
But, does Sony's latest offering have enough ammunition to take on the tried and tested Apple iPhone 5?
Here is a breakdown of comparison between the Sony Xperia Z and iPhone 5 [Spec Wise]:
Model

Sony Xperia Z

Apple iPhone 5

Display

5.0-inch Full HD Reality

Display with Mobile

BRAVIA Engine 2

(Pixel density: 441 pixels per inch)

4.0-inch display with

640x1,136p resolutions

(326 ppi)

OS

Android v4.1 Jelly Bean OS

(has more than 675,000 Apps)

Apple iOS 6, currently

updated to iOS 6.1

(has more than 775,000

Apps)

Processor

Snapdragon S4 quad-core

processor with 1.5 GHz

CPU speed

Dual-core Apple A6 processor with 1.3GHz

clock speed

GPU

Adreno 320

PowerVR SGX543MP3

RAM

2GB

1GB LPDDR2-1066 RAM

Memory

16GB ,expandable up to

32GB

Available in 16GB,32GB and 64GB variants

Camera

Main: 13.1-megapixel

Back side illuminated

Sensor with LED flash

Front: 2.2-megapixel

Rear:8.0-MP with back-side

Illuminated sensor

Front:1.2-MP with 720p HD video recording capability

Network

3G

3G

Battery

2,400 mAh

1,440 mAh with standby time up to 225 hours(9 days)

Price

Expected around

₹ 45,000 Plus

Ranges from ₹42,500 to ₹ 59,000 depending on storage variant
Remark:
Taking note of Xperia Z's specs, many critics have praised Sony's new device saying its matches spec-to-spec with current top smartphones.
Xperia Z's pixel density of 441 pixels per inch makes iPhone 5's retina display seem ordinary. And with a powerful quad-core processor Sony's smartphone scores another point over iPhone 5's slower dual-core processor.
As Xperia Z is expected to run on Android 4.1 Jelly Bean out-of-box and iPhone 5 boasts an updated iOS 6.1 OS, they both stand even in terms of platform popularity, with both possessing a collection of more than a million apps.
Xperia Z also boasts a few features to tip the scale in its favor. The smartphone comes with a water-proof and dust-proof coating on its body and it also packs a 13.0 megapixel camera with Sony's Exmor RS image sensor and HDR (High Dynamic Range) video capability. iPhone 5 sports a 8.0-megapixel with back-side Illuminated sensor camera.
Both Xperia Z and iPhone 5 fall in a similar price range, but Apple has made remarkable headway in the Indian market thanks to creative marketing blitzkriegs. The company's retail partners are now allowing EMI (Easy Monthly Installment) payment options for iPhone 5 as well as slashing prices of older iPhone models to help reach aspiring middle class buyers who cover a big chunk of the subcontinent population.
With superior specs to boast, it remains to be seen if Xperia Z can re-create the same fan following as Apple iPhone 5 did in India.