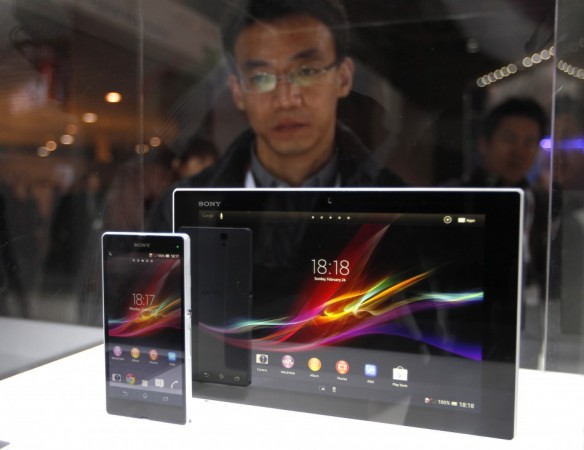 wiConsumer electronics giant Sony on Wednesday officially launched its flagship Xperia Z smartphone priced around ₹39,000, while rival Samsung had launched a mid-range phablet, Galaxy Grand, a couple of months ago in India.
Both MNC companies are betting big on the Indian smartphone market which is one of the fastest growing markets in the world with the sub-continent expected to become third largest market in a few years.
In a price-conscious market like India, will Galaxy Grand hurt Sony's quad-core smartphone Xperia Z sales in the subcontinent?
Here is a breakdown of comparison between the Samsung's Galaxy Grand and Sony Xperia Z:
Model

Samsung Galaxy Grand

Sony Xperia Z

Display

5-inch Super AMOLED

Screen with 800x480p

Resolution

( around 187 ppi)

5.0-inch Full HD Reality

Display with Mobile

BRAVIA Engine 2

(Pixel density: 441 pixels per inch)

OS

Android v4.1.2 OS

(updated Jelly Bean)

Android v4.1 Jelly Bean OS

Processor

Dual-core processor with

1.2GHz clock speed

Snapdragon S4 quad-core processor with 1.5 GHz CPU speed

Internal memory

1GB

2GB

Storage capacity

8GB,expandable up to

64GB

16GB ,expandable up to

32GB

Camera

Rear side: 8.0-megapixel

Camera

Front side: 2.0- megapixel VGA camera

Main: 13.1-megapixel

Back side illuminated

Sensor with LED flash

Front: 2.2-megapixel

Network

3G & 4G ( in select markets)

3G & 4G (in select markets)

Battery

2100 mAh

2,400 mAh

Price

₹21,300

₹38,990
Remark:
In terms of internal specifications, Samsung's Grand is no match to Sony's flagship phablet; Xperia Z comes packed with a superior quad-core processor, an impressive 13.1-megapixel camera where as Galaxy Grand features a slower dual-core processor and a standard 8.0-megapixel camera.
One common spec between both smartphones is the Android mobile operating system. Besides that, Xperia Z is superior to Galaxy Grand in all other aspects.
However, Galaxy Grand has some advantages over Sony Xperia Z thanks to Samsung's brand value and its product prices. The Galaxy phablet is priced ₹21,500 while Xperia Z holds a price tag of ₹38,990. In a price-sensitive market like India, cost of the device will play crucial role in the minds of middle-class buyers of the sub-continent.
But, according to recent reports, rival Apple has made remarkable headway in the Indian markets thanks to creative marketing blitzkriegs. The company retail partners are now allowing EMI (Easy Monthly Installment) payment options for iPhone 5. If Sony follows the same footsteps, it can revive its chances of gaining a formidable market share in India.