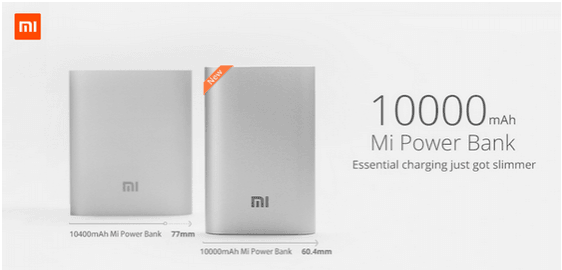 After the budget smartphone war, the Indian consumer market is being flooded with power banks. Last year, Xiaomi brought two power bank devices with 5,200 mAh and 10.400 mAh capacity and got decent success in the country. This probably prompted Huawei, Asus and OnePlus recently to launch their own branded power bank devices. To challenge them, Xiaomi has launched another Mi power bank in India.
Powered by a 10,000 mAh battery, the latest Xiaomi Mi power bank is 21.4 percent slimmer and 30 percent more energy dense than its predecessor Mi 10,400 mAh power bank. Mi mentioned the key aspects in an official tweet:
Meet the latest 10000mAh #MiPowerBank! It's 21.4% slimmer & 30% more energy dense than the 10400mAh PB. Slim, no? pic.twitter.com/76X3NT5lI6

— Mi (@xiaomi) May 13, 2015
Recently, Asus launched its Zenpower branded power bank in the country. Powered by a 10,500 mAh battery, the ZenPower weighs only 215g and resembles a credit card in size. The ZenPower power bank is available in black, silver, pink, blue and gold colour variants. The black colour is priced at ₹1,599 onwards and the Silver, Pink, Blue and Gold variants from ₹1,499 onwards. Asus ZenPower will be available from 15 May, 2015, in Asus Exclusive stores and on Flipkart.
OnePlus has also launched its own branded power bank device with 10,000 mAh battery capacity. Available in Silk White and Sandstone Black colour variants. The OnePlus power bank is is available exclusively through Amazon for ₹ 1,399.
Honor brand smartphone maker Huawei also launched a bigger 13,000 mAh power bank, which is available exclusively on Flipkart for ₹ 1,399.
The earlier Mi 10,400 mAh power bank was available for ₹999, but since the excise duty has been increased. The latest Mi power bank is expected to be available for a higher price.