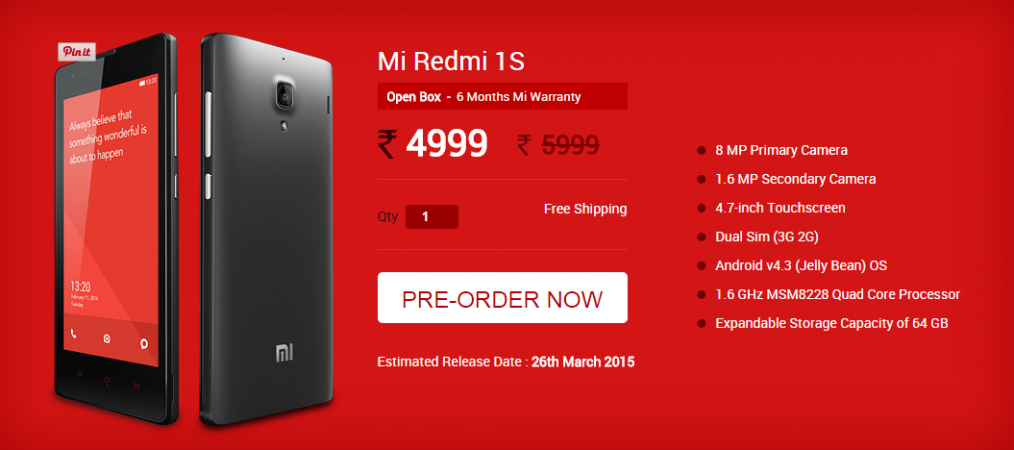 After successfully selling Redmi 1S smartphones in India, Xiaomi is trying to bring the sensation back with its affordable handset.
The Chinese phone-maker will start selling refurbished and unboxed units of Redmi 1S exclusively via GreenDust, an online store that sells pre-owned and refurbished products. The handset is up for pre-order on the site for a discounted price, targeting those who wish to buy the Xiaomi smartphone for cheaper than it already is.
According to the product listing on GreenDust, the Redmi 1S smartphones will be available as "refurbished" or "unboxed" that will sell for ₹4,599 and ₹4,999, respectively. Currently, Flipkart holds exclusive rights to sell brand new Xiaomi phones in India through weekly flash sales, but the Redmi 1S is no longer available in India. Instead Xiaomi will sell its newly-launched Redmi 2 starting Tuesday. GreenDust is the first third-party reseller to host a Xiaomi flash sale through its site for refurbished and unboxed phones.
"If this pilot is successful, we will execute all our flash sales with such amazing products at amazing price only through our mobile app - a first in India," Hitendra Chaturvedi, founder and CEO of GreenDust told NDTV.
Xiaomi's debut handset, Redmi 1S, sold like hot cakes when it was launched in India last year. The impressive demand for budget phones encouraged the phone-maker to bring more products to the country. Currently, Flipkart is selling Xiaomi's flagship Mi4, Redmi Note and Redmi 2 handsets, a major leap from the company's one-handset-per-sale strategy.
If you are skeptical about ending up getting an old or damaged Redmi 1S from GreenDust, the retailer guarantees 15-day return policy, no questions asked. The refurbishments of the handsets are carried out by official Xiaomi service partners and come with six-month Mi warranty.
If you are interested in buying the Redmi 1S, you can pre-order the device from GreenDust before the sale begins on Thursday, 26 March. There's no saying how quick the handsets will be sold out but stay alert if you do not wish to miss this sale.