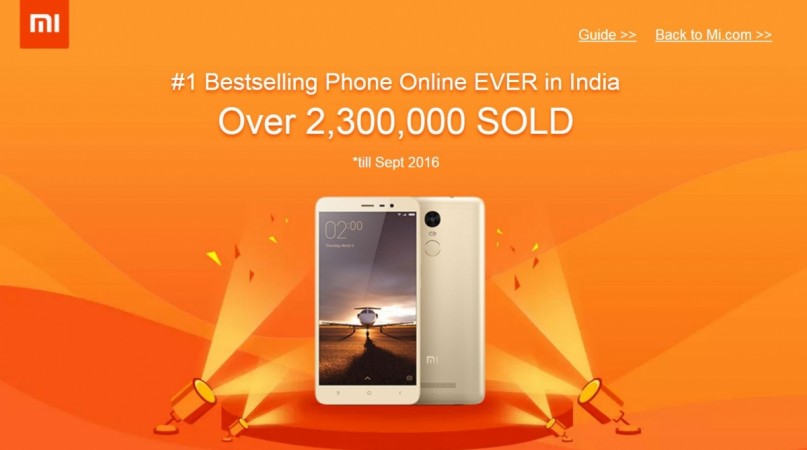 Xiaomi's mid-range smartphone Redmi Note 3, which made its debut in early March, has become India's number one selling smartphone online until now.
The Chinese company confirmed Redmi Note 3's sales details on its official site. It claims to have sold more than 2.3 million units in six months, which is equivalent to one phone being sold every 7 seconds.
To mark the occasion, Xiaomi has organised a promotional activity inviting fans to play a game and winners stand a chance to win cash coupons and a grand price of Redmi Note 3.
Read more: Xiaomi Redmi Note 3 review: Undisputed champion in sub-Rs. 15,000 range
Xiaomi Redmi Note 3's staggering sales record is palpable, as it most cost-effective phone in the mid-range category. Despite being priced Rs 9,999 (16GB+2GB RAM: low-end model), the device boasts top-notch build quality, powerful processor, a massive battery and a decent camera on the rear.
We reviewed the Redmi Note 3 for two weeks and it is unarguably the best in its category.
Also read: Xiaomi Mi Max Review: XL version of Redmi Note 3 for mobile entertainment buffs
Xiaomi had a long spell of dull sales between late 2015 and the first quarter of 2016, but the introduction of the Redmi Note 3 in March-end has started to turn things around for Xiaomi. The company followed up with feature-rich phablet Mi Max in Julu and the budget phone Redmi 3S series in August, and they too come well endowed with good set of hardware and are poised to increase Xiaomi's market share in India.
Read more: Xiaomi Redmi 3S Prime Review: Classy phone for the masses