Earlier this week, Xiaomi announced that Redmi Note 4 sale breached 1 million mark in just 45 days after the launch, overtaking its predecessor's record and got crowned as the fastest smartphone ever to reach that milestone in India. Now, the company is all geared up to launch another feature-rich Redmi 4 mobile series in the country later this month.
Xiaomi India has sent us the media invite for a press briefing titled—"TIME TO GET SMARTER". Though the company has restrained from any further details of the programme, the graphically morphed title [see below], where the alphabets—"A and R"—are conjoined to form a numerical "4", almost giving away the hint that the Redmi 4 series will make its debut in India.
Also read: Xiaomi Redmi Note 4 sale breaches 1 million mark; shatters Redmi Note 3 record in India
The event is scheduled on February 20 in New Delhi and will be presided over by Manu Kumar Jain, vice president (global) & managing director (India), and Jai Mani, product lead, Xiaomi India.
For those unaware, Redmi 4 series come in two variants—one standard Redmi 4 and another low-end dubbed as the Redmi 4A.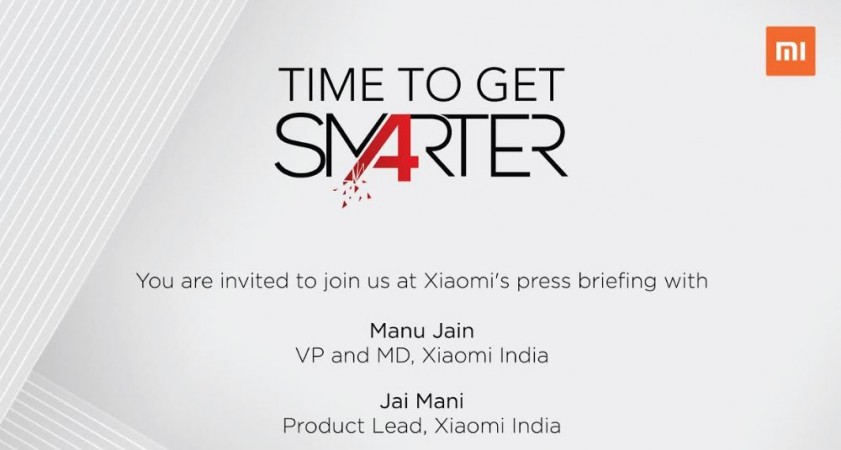 The Redmi 4 comes in two sub-variants having different system configuration. The top-end Redmi 4 Prime model sports 5.0-inch full HD IPS LCD display and houses Qualcomm's Snapdragon 625 octa-core processor with Adreno 505 GPU having 3GB RAM and 32GB storage, whereas the generic Redmi 4 features 5.0-inch HD IPS LCD screen, Snapdragon 430 octa-core chipset with Adreno 505 GPU, 2GB RAM and 16GB storage.
Both the devices boast of full metallic body with 2.5D curved glass shield, fingerprint sensor (on the back), a 13MP camera on the back with f/2.2 aperture, LED flash (dual-tone in Prime model), PDAF (Phase Detection Auto Focus), a 5MP front snapper and a massive 4,100mAh battery.
On the other hand, Redmi 4A series houses more modest features compared to the above two models. It sports a 5.0-inch HD screen, Snapdragon 425 quad-core CPU, 2GB RAM, 16GB storage, a 3,200 mAh cell, a 13MP camera with single LED flash and a 5MP shooter on the front.
There is also a slight chance that Xiaomi might even release the Redmi 4X, which broke covers in China, a just a few weeks ago. It comes packed with Qualcomm-made Snapdragon 435 CPU. Rest of the features are identical to the original Redmi 4 series.
As of now, there is no word on how much the Redmi 4 series cost in India; but, going by the prices set by Xiaomi on Redmi 3s series; they are expected to cost less than Rs. 9,000, if not lesser.
Will Redmi 4 series do an encore of Redmi Note 4's fastest million sale feat?
Yes, If the feature-rich Redmi 4 series is priced aggressively, we have no doubt, Xiaomi will definitely witness bumper sale and also the company, which recently ascended to the second position in Indian smartphone in the quarter ending in December 2016, will further widen the gap between rivals Lenovo (& Motorola), Vivo and Oppo and also be able to give stiff challenge to the chart leader Samsung in the coming months.
Watch this space for latest news on Xiaomi.