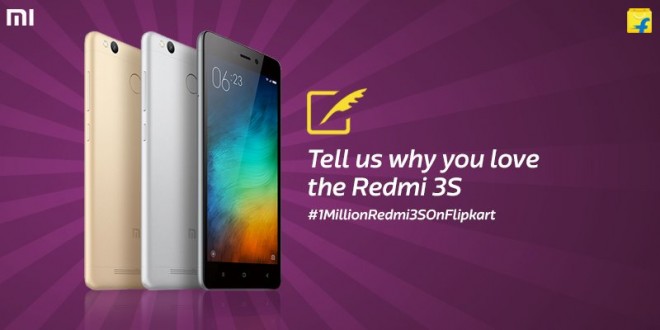 Xiaomi has managed to stay ahead of its game in the smartphone race with a series of new launches in recent months. One of the popular devices the company launched in India was the Redmi 3S series. Now, Flipkart announced that it managed to sell 1 million units of Redmi 3S and Redmi 3S Prime since August.
Flipkart made the announcement on Twitter with the hashtag #1MillionRedmi3SOnFlipkart and it is celebrating the milestone with an attractive contest. The conditions of the new contest are pretty simple and 2 lucky winners will walk away with EGVs worth Rs. 10,000 each.
As per #1MillionRedmi3SOnFlipkart contest rules, participants must do the following:
Follow Flipkart on Twitter and retweet the contest tweets.
Tag @Flipkart, contest hashtag and explain why you love the Redmi 3S.
In order to be eligible to win the prizes, contestants must be residents of India (except Tamil Nadu) and the winners will be announced on 25 November. The answers must be posted between 4 pm and 11:59 pm on Wednesday, 23 November.
Winners can use the EGVs to shop on Flipkart. But if you are planning to buy the Redmi 3S or Redmi 3S Prime, you might be out of luck. As of this writing, both budget smartphones were unavailable on Flipkart. It is unclear when the smartphones will be available next.
In case you are wondering, the Redmi 3S and Redmi 3S Prime are known for their high-value specs. There is not a vast difference between the two phones, except that the Redmi 3S Prime comes with 32GB storage, 3GB RAM and a fingerprint scanner, while Redmi 3S lacks the biometric sensor and offers 16GB+2GB configuration.
Both the phones have the same metallic design, 5-inch HD IPS display, 13MP primary camera and a 5MP front snapper for selfies. Both handsets are also powered by the same processor, which is an octa-core Qualcomm Snapdragon 430 CPU with Adreno 505 GPU. They pack a 4,100mAh battery each and support dual SIM and 4G LTE bands.