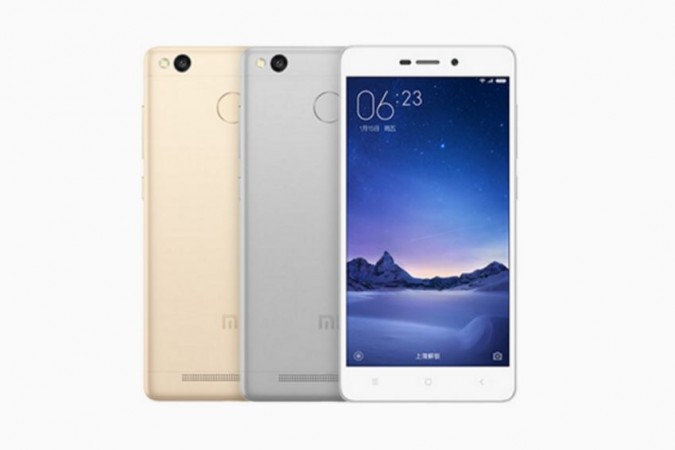 Xiaomi is once again back in news for its affordable smartphones and this time the recent launch of the Redmi 3S Prime has helped the company achieve new milestones. After launching the Redmi 3S Prime and Redmi 3S in India on Aug. 3, the company only sold the "Prime" variant in a flash sale on Tuesday. The company has now revealed that both the smartphones will be available for purchase in India on Aug. 17.
The upcoming flash sale next Wednesday will be held on Mi.com and Flipkart, which will be the first for the Redmi 3S. In the Redmi 3S Prime's first flash sale, Xiaomi set a new record of selling 90,000 units over a short time of just 8 minutes, which the company says is "the highest volume ever" for a first sale held by them. The next flash sale, which is scheduled to begin at 12 noon on Aug. 17, will go live without registrations.
Xiaomi Redmi 3S Prime's success isn't surprising as the handset features premium specs without costing a bomb. Priced at Rs. 8,999, the Redmi 3S Prime comes with 3GB RAM, 32GB storage and a fingerprint scanner at the back, which are the key differentiators from the cheaper Redmi 3S variant. Xiaomi has priced its Redmi 3S at Rs. 6,999, focusing the device on the budget-conscious lot of India.
"We listen very closely to our fans. We realise that we were consistently getting feedback to improve on two key things - flash sales and product launch timings for India. I am very happy that we have been able to make marked improvement on both these fronts. We did a launch sale without registration for the first time ever, as we were confident that we had a significant volume with more than 90,000 units," Manu Kumar Jain, Xiaomi India head, said in an email statement to Gadgets360.
In terms of specifications, Xiaomi Redmi 3S and Redmi 3S Prime feature the same 5-inch HD IPS display, 13MP primary camera, 5MP front snapper, an octa-core Qualcomm Snapdragon 430 CPU and Adreno 505 GPU. Since the Redmi 3S is cheaper, it comes with 16GB storage, 2GB RAM and lacks the biometric sensor. However, both phones have dual SIM support, one of which acts as a microSD card slot, 4G LTE and a sizable 4,100mAh battery.
The decision to choose between the two smartphones shouldn't be tricky at all. Those who are on a budget leash can go for the Redmi 3S while those who really need the extra RAM, storage and the fingerprint sensor can opt for the Redmi 3S Prime.
In case you need more alternatives, there are several handsets in the sub-Rs. 10,000 with competing features. Lenovo Vibe K5, Vibe K5 Plus, Coolpad Max 2.5D, Swipe Elite Plus are some of the popular choices in that range.