After entering India, Xiaomi has always been in the headlines for anything and everything. The bulk selling process through e-retailer website Flipkart has fetched huge business for them. After their official appearance, every flash sale has gone viral.
The biggest reason behind this was the flaunted specifications. People, particularly youngsters, who always crave for phone with lower price and flagship smartphone-like configurations, rolled their eyes with an "Oh My God" gesture.
The only question that appeared in most people's mind was, "how can they offer such configuration at a throw-away price? Are they making a profit? Are they featuring the same on-paper configuration on the phone?"
Here's our take on this, with every minute details.
Design and Built
Xiaomi has not experimented much on this segment, hence resulted in a traditional rectangular handset with no conspicuous design innovation. The traditional candy-bar shape with tapered edges makes it a regular smartphone. But Xiaomi has put everything in place to get it going.
We found Xiaomi Redmi 1S reasonably comfortable to hold. Measuring 137x69x9.9mm Xiaomi Redmi 1S weighs 158g, which is not quite light in hand. With 9.9mm thickness, Redmi 1S feels quite thicker as well.
The interchangeable back covers are made of matte plastic. The grey cover, came with our review unit looked durable and makes the device looks a bit better. Available in different colours those back covers are available across online stores, starting from ₹150 onwards.
The edge-to-edge AGC Dragontrail glass has occupied the major portion of the front. Below the 4.7-inch display there are three capacitive buttons with a red mark on them. Above the display there is a regular earpiece unit along with the light ambience, proximity sensor and a 1.6MP camera for making video calls and taking selfies.
The left side of the handset has left completely unoccupied while the right side of the device features the volume rocker and a power button with a silver finish. The 3.5mm port housed on the top and the regular mic and a micro USB port is on the bottom.
The 8mp camera occupies the top rear along with a single LED flash. It also has a speaker on top and the Mi logo has been placed on the rear bottom.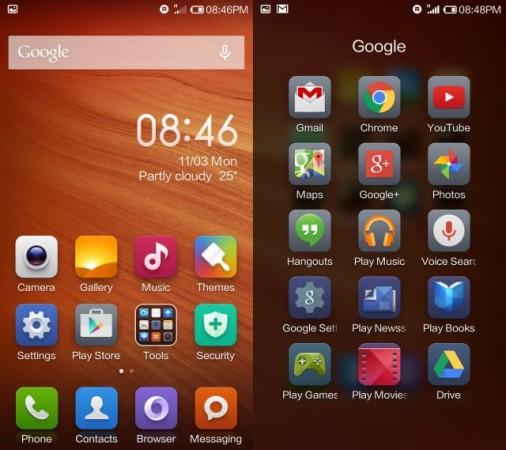 Display
The Xiaomi Redmi 1S' 4.7-inch HD IPS display has a resolution of 720x1,280 pixels with a density measurement of 312ppi. For added protection, Xiaomi has protected the display with an AGC Dragontrail glass.
We had no problem with gaming, movie watching, internet browsing or editing documents. The screen looks bright and crisp with excellent presence of colour, gamut and saturation. However, visibility under direct sunlight is a matter of concern for the high reflectivity of the protection glass. But it works well while protecting the display. Scratching with corks, coins or any other sharp element cannot create a dent and hence it is easy to keep it inside a jeans pocket or a handbag.
The phone features option for tweaking colour temperature and saturation and also for using the phone while wearing gloves.
Operating System & UI
Instead of using Kitkat, Xiaomi Redmi 1S uses Android Jellybean operating system with a customised interface, MIUI 5.0. However, Redmi users are now awaiting Xiaomi's update of MIUI 6.0.
Each screen has been designed with simple bars, buttons and options. Not a single window looks cluttered or exaggerated. The option bars and menu are logically arranged with a simple layout. Xiaomi has sacrificed the inside menu button and placed everything right on the first screen with an easy-to-use file explorer and a well-designed custom browser with all essential links.
All the essential features have been grouped according to their usage. For example, radio, torch, compass, clock and voice recorder are put together in Tools folder, while all Google features are in the Google folder. The file explorer supports compressed files and offers compressing and decompressing features by default.
There is a theme section on the home screen with heavy customisation options. For downloading themes an Mi cloud account is necessary. After logging in, there are plenty of options for tweaking the interface. The essential apps like music player, video player or image gallery are well-crafted with equal amount of simplicity.
Though the usage is flawless, we wish Redmi 1S will soon get updated to a newer version of MIUI, featuring Android Lollipop, which creates less hog on the system and makes the experience much better.
A special note on MI Cloud
Recently there was a huge brawl over Mi cloud's data transmission factor. But according to Hugo Barra, a patch was issued to fix the bug. It was found that the Cloud is off and nothing is syncing automatically unless initialised and asked to archive data in the Mi cloud.
Performance
The Xiaomi Redmi 1S runs on a Snapdragon 400 SoC with a quad-core processor clocked at 1.6GHz Cortex-A7 processor, Adreno 305 GPU coupled with 1GB RAM.
In our benchmarking test, Redmi 1S did fabulous, performing better than most of the Snapdragon 400 based SoC, for its higher clock speed (1.6GHz instead of 1.4GHz).
The processor is not outstanding, since several latest 64-bit processors would perform similar or better, but Redmi 1S gives an overall stable experience.
For general tasks like web browsing and document editing, we found Redmi 1S offers a decent performance. Apps and web pages gets loaded in a while even when the phone enjoys a WiFi connection.
We experienced a slight lag in heavy games, but logically those games are meant to be played with more powerful processors. The overall performance experience is decent and it would prove to be suitable for most users.
The box comes without an earphone, hence the users are free to choose a third party earphone for pairing up. However, Xiaomi has some set-up options while being paired with their own earphones. The bass and treble get tuned in a precise way.
Camera
Xiaomi Redmi 1S features an 8mp camera coupled with an LED flash. The camera interface is simple to use with options including HDR, scenes, focus mode, white balance, exposure and ISO.
The rear camera clicks quite decent in most conditions. Resulting pictures came impressive with enough details, colours and correct white balance. In low-lit conditions, there are noises visible in the images, but considering the price, it offers outstanding picture quality.
Battery
Powered by a 2,000mAh battery, the handset had a few issues previously concerning the battery life. Some users also experienced heating problems with the device. Contextually, Xiaomi has released an over-the-air update on 14 October this year addressing all these major issues.
Our reviewing handset came updated with the latest OTA, may be that is why we didn't experience any noticeable heating issue while playing rigorous games.
In our stretch video test where we play a video in an infinite loop, the phone stood around seven and a half hours. With our everyday usage, with a combination of browsing, gaming, mailing, social networking and document editing, the battery lasted for around 16-18 hours.
Wrapping up
A decently clocked SoC, a user-friendly interface and an excellent camera makes the Xiaomi Redmi 1S a steal. Flipkart is offering this phone for a throw-away ₹5999. Of course, there are slight issues with the visibility and battery life, but the overall performance and the price-to-performance makes it an ideal buy for the budget-conscious customers.
The closest competitor of this phone is Moto G, but it costs way above and the other is Huawei Honor Holly, which we are yet to review.
Pros
Good overall Processing capability
Great Camera
Reasonable performance
Decent Audio
Cons
Battery
Less visibility in direct sunlight
Based on Android Jellybean
Key Specifications:
| | |
| --- | --- |
| Display | 4.7-inch IPS LCD capacitive, 720x1,280 pixels, 312ppi pixel density |
| Dimension | 137x69x9.9 mm |
| Weight | 158g |
| Chipset | Qualcomm MSM8228 Snapdragon |
| CPU | Quad-core 1.6 GHz Cortex-A7 |
| GPU | Adreno 305 |
| Memory | 8GB In-built, 1 GB RAM, MicroSD card Slot |
| Camera | 8mp rear, 3,264x2,448 pixels, 1,080p@30fps+ 1.6mp front, 720p@30fps |
| OS | Android OS, v4.3 (Jelly Bean) |
| Battery | Li-Ion 2,000mAh battery |