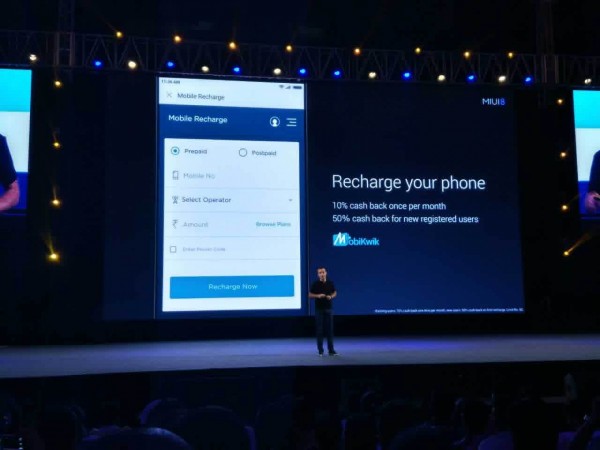 Xiaomi announced the MIUI 8 Android operating system on Thursday and now, they've got another announcement to make. The world's third-largest smartphone maker has partnered with MobiKwik, a leading mobile payments company, to integrate MobiKwik wallets into the devices' OS, allowing users to make payments at the touch of a button.
How it works? When users running MIUI 8 on their smartphones receive a message telling them that a particular bill is due to be paid, the MIUI interface adds a little button labeled "Recharge Now" under the SMS. Tapping on the button will take users straight to their MobiKwik wallets, from where users can authenticate the payment.
"With this initiative, we take a leap in giving users a seamless recharge and payments experience. This pioneering association with Xiaomi is a step towards Internet businesses collaborating to create the best experiences for the user," MoboKwik CEO Mrinal Sinha said in a statement.
The statement added that Xiaomi device users will gain access to this feature when they upgrade to MIUI 8. Additionally, new users will receive a 50 percent cashback on their first recharge, while existing users would be entitled to a 10 percent cashback for the first recharge of the month.
Xiaomi also releases the MIUI for certain supported devices. Once MIUI 8 starts being rolled out for Xiaomi users, one can expect the supported devices to gain access to the UI and as a result MobiKwik's one-touch payments option.
During the global launch Xiaomi announced that MIUI 8 would be coming to the following Xiaomi devices:
Xiaomi Mi 2
Xiaomi Mi 2s
Xiaomi Mi 3
Xiaomi Mi 4
Xiaomi Mi 4c
Xiaomi Mi 4s
Xiaomi Mi 5
Xiaomi Redmi Note
Xiaomi Redmi Note 3