Xiaomi, during a brief launch event on Wednesday, March 7, unveiled two new smart TVs in India. The company's TV line-up in the country now consists of three models – flagship 55-inch Mi TV 4, 43-inch Mi TV 4A and 32-inch Mi TV 4A – all of them priced competitively to disrupt the industry.
Xiaomi India's Mi TV product manager Sudeep Sahu hosted the online Mi Product launch event on Wednesday. "We have been researching the Indian TV market for quite some time now. And throughout our interaction with Mi fans, we found out that they all want to upgrade to a smart experience. But quite frankly, the choices have been quite limited and really expensive," Sahu said before revealing the 32-inch Mi TV 4A and 43-inch Mi TV 4A in India
If you were only expecting one model today, the launch of two variants not only gives better options but also confuses potential buyers. Firstly, the price can be a great differentiating factor here. The 32-inch Mi TV 4A costs Rs 13,999 and the 43-inch Mi TV 4A is priced at Rs 22,999.
But if you want to know which smart TV suits you the best, here's a quick look at all the features you'll get with both Mi TV 4A models. It's worth noting that both Mi TV 4A models are more similar than one would think.
Mi TV 4A 32-inch and 43-inch models come with:
PatchWall OS offering 500,000+ hours of content, including TV shows and movies.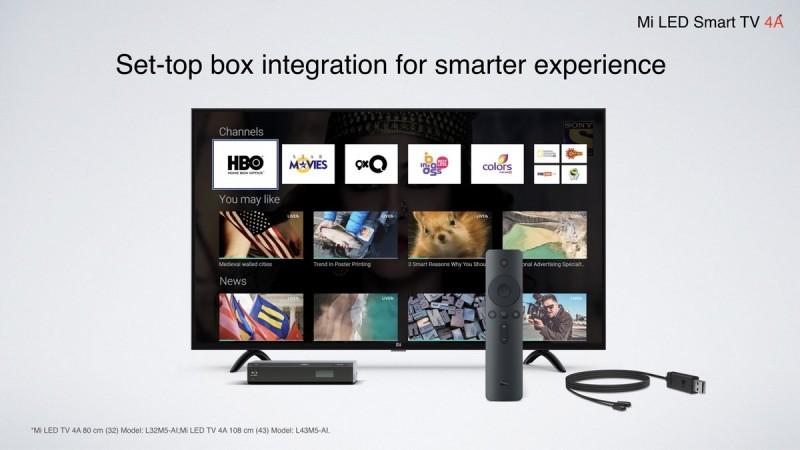 2x10W dome stereo speakers with DTS HD.
Both TVs are powered by PatchWall OS, the user experience on Mi TV 4A, both 32-inch and 43-inch, is same as the one on flagship Mi TV 4 (55).
The Mi TV 4A series is extremely light. To put in perspective, Sahu picked up the 32-inch model with just two fingers. There are two ergonomic stands on which the display panels with extremely thin bezels rest.
The TVs come with personalized recommendations. The TV will learn from your viewing habits over time and give you better online and offline recommendations.
There's an 11-button Mi Remote with both TVs, giving users ease of use and access and a unique feature called Universal Search for one-tap search.
As for the differences between the 32-inch and 43-inch Mi TV 4A, here's what sets them apart:
Besides the different screen sizes, the 32-inch model is HD Ready while the 43-inch Mi TV 4A has Full HD resolution.
The Mi TV 4A 32-inch comes with 2 USB ports, 3 HDMI ports, Wi-Fi, Ethernet, AV port and a headphone jack. The 43-inch variant has one extra USB port and an S/PDIF port.
Limitations
Even with a massive library of content, Xiaomi's Mi TV 4A doesn't support Netflix or Amazon Prime Video. But that could change in the future and the upgradeable PatchWall will enable support for the two most popular media streaming services.
"The Mi TV 4A is truly disruptive in the TV industry. Now, we have worked very closely with all our content partners to ensure we have content across 15 different languages," Sahu noted. "We are fully committed to bring more content in the future."
Availability
Both Mi TV 4A models will be available starting March 13, 2018, on Flipkart, Mi.com, Mi Homes. Unlike the flagship model, the affordable Mi TV 4A series will be available twice a week – every Tuesday and Friday – until an open sale.
So which Mi TV 4A is best for you? Share your thoughts in the comments below.