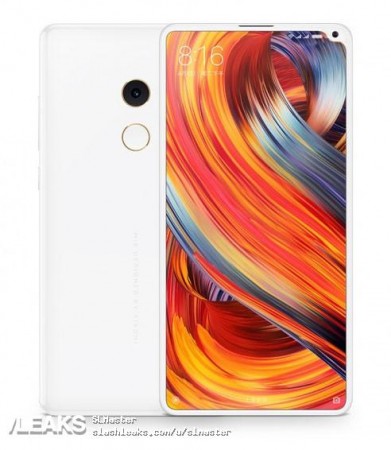 With just over a couple of weeks to go before the Mobile World Congress (MWC) 2018 kicks off on February 26, a leaked specs sheet of the upcoming Xiaomi Mi MIX 2S surfaced online on Friday, revealing what the new handset could finally look like. Rumors are rife that the Chinese smartphone company will unveil the phone at the event, which will end on March 1.
The specs sheet, which revealed key information on the phone's form factor, claimed that the new Mi MIX 2S could feature Full Screen 3.0 design, indicating that the device would be a higher screen-to-body ratio than that of the existing Mi MIX 2. The purported outline image of the Mi MIX 2S also suggested that it could come with thinner bezels compared to its predecessor.
As per the leaked design, the Mi MIX 2S will have its selfie camera positioned at the top-right corner while there will be a slim earpiece in the middle of the upper bezel. The specs sheet also mentioned the inclusion of an under-display fingerprint sensor, a feature that even giants like Apple and Samsung have been struggling to implement on their flagship phones.
According to the specs sheet, the Xiaomi Mi MIX 2S will be the world's first smartphone to be powered by Qualcomm's Snapdragon 845 SoC. The device is also expected to sport 8GB of RAM and high-speed 256GB UFS Internal Storage.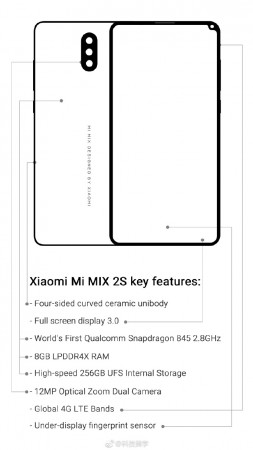 Other speculated specs of the Mi MIX 2S include a 12-megapixel dual camera setup with optical zoom and support for global 4G LTE bands.
The latest leaked design of the Mi MIX 2S is different from a recently leaked render, which suggested that the phone would be identical to the Apple iPhone X, carrying the so-called "notch" at the top of its display.
However, another leaked render suggested later that the smartphone would be truly bezel-less, with the screen occupying almost 100 percent of the device's front.
Rumors have it that Xiaomi will price the handset at around ¥4000 (about Rs 40,000) at launch.