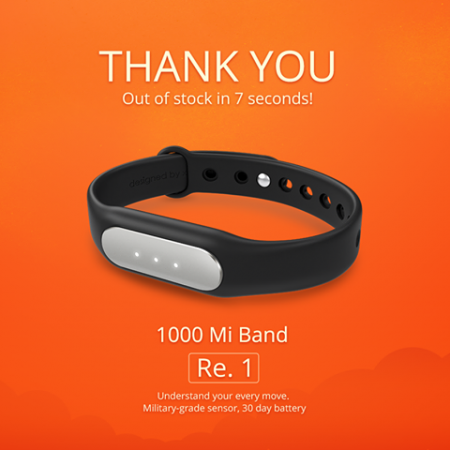 Xiaomi concluded its first flash sale of Mi Band wearable in India on Tuesday and the buyers emptied the stock of 1,000 units in just 7 seconds. The sale was no ordinary one as the Chinese conglomerate offered its fitness band at just ₹1, down from its usual ₹999 price tag. The generous discount made the Mi Band even more attractive for consumers who have eagerly been waiting for the flash sale over the past week. Only registered buyers were allowed to participate in Tuesday's sale and the swift ones successfully placed the order.
"Thank you, Mi fans! 1000 Mi Bands at Re. 1 were out of stock in 7 seconds! For those who will be getting the Mi Bands, do share photos with us once you receive it," MI India posted on Facebook.
The Mi Band was launched alongside the Mi 4i in India last month. Both devices were well-received by the customers and critics alike. The Mi Band marks the stepping stone for Xiaomi in the wearables category in India and the company made a bold stand by slashing the price by almost 99 percent. This has not only garnered nationwide attention, but also gives a boost to the fast-growing wearable industry, which is dominated by giants like Samsung, Apple, and LG in the smartwatch category, and Jawbone, Nike, and others in the fitness bands.
In our review, Mi Band made an impressive stand from its price perspective. It offers an elegant design and packs reasonable features that justify the price tag. Even without the discount, the Mi Band at ₹999 is a worthy choice for those who want to get started with the wearable experience.
Xiaomi labeled the first Mi Band flash sale as a special one and hosted the trade on its own website. For those who successfully placed the order for Mi Band on 5 May can track their orders online. The Mi Band is being sold by Xiaomi's authorised distributor in India, Rocket Kommerce LLP. It is unclear as to why Xiaomi hosted the sale on its own site instead of Flipkart, which is where most of its Mi Phones are exclusively sold.
When will Mi Band be available again?
Xiaomi hasn't confirmed when the Mi Band will hit the online stores again, but we are guessing the fitness tracker may be available next Tuesday, 12 May, at 2 pm. It is debatable whether Xiaomi will once again sell the wearable through its online site or prefer its online retail partners, like Flipkart, next time. With the ₹1 Mi Band sale coming to an end, buyers will need to shell out ₹999 for the fitness band starting next sale.