The iPhone X's FaceID was one of the most-talked-about smartphone features of 2017, and we might see more manufacturers equip their flagships with the advanced facial recognition technology next year.
Huawei has almost readied its own facial unlocki system with payment-level authentication, and now reports suggest Xiaomi could ditch the fingerprint sensor technology completely in favour of a FaceID-like facial recognition system with its upcoming flagship Mi 7.
Xiaomi Mi 7 might be one of the first smartphones to follow in Apple's footsteps and part ways with the fingerprint sensor technology. The upcoming flagship is tipped to come a 3D face-sensing technology similar to the iPhone X's FaceID.
The latest report comes from MyDrivers, which cites sources who say Xiaomi isn't too keen on the idea of an under-screen fingerprint sensor technology aka on-screen fingerprint scanner (something that the upcoming OnePlus 6 is also expected to have).
The report adds that Xiaomi's lack of interest in under-screen fingerprint scanner indicates it could ditch fingerprint-based security altogether in favour of face recognition.
The under-display fingerprint sensor is a feature long expected to arrive on smartphones, and companies like Vivo and Huawei are already working on bringing such scanners in their upcoming smartphones.
In fact, Synaptics recently confirmed that Vivo could be the first company to equip its next smartphone with under-display fingerprint scanning.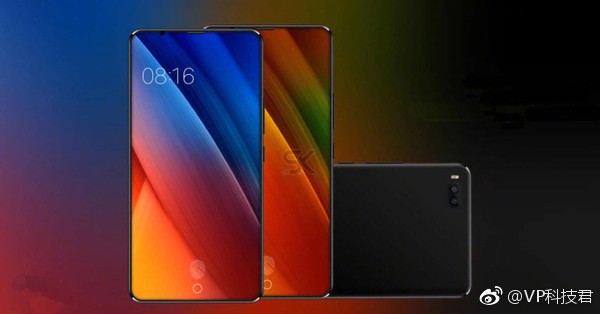 However, a recent report from GizChina shows renders revealing an on-screen fingerprint scanner on the Mi 7. So, it's better to keep room for more rumours and speculations before jumping to conclusions.
The upcoming Xiaomi Mi 7 is rumoured to sport a 6-inch full HD+ (1440x2560 pixels) AMOLED display with 18:9 aspect ratio. It is highly possible that it will come with a dual-camera setup at the back.
Earlier reports had suggested that the dual-camera setup could comprise of two 19-megapixel sensors while the front camera being a 16-megapixel snapper.
Xiaomi has even confirmed that the Mi 7 will be powered by the newly announced Qualcomm Snapdragon 845 SoC that will power most flagships next year.
The phone could pack 6GB of RAM and a 3,200mAh battery, and is expected to be launched in Q1 2018.
Source: MyDrivers (in Chinese)