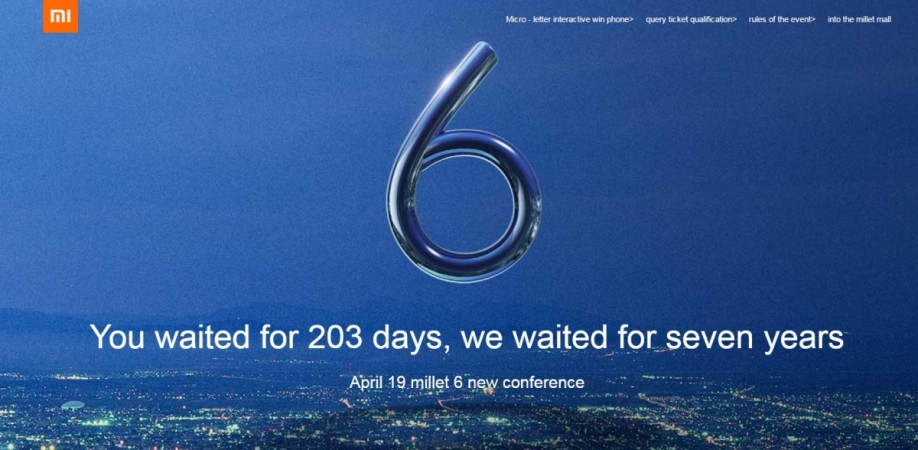 In about few hours from now, Xiaomi's much awaited 2017-series flagship smartphone Mi 6 series is slated break covers ain Beijing, 2:00 pm CST local time (around 12:00 pm IST).
Like previous years, Xiaomi has opened dedicated webpage to stream the entire event online so that fans can catch live action via smart devices.
What to expect at Xiaomi Mi 6 event?
Xiaomi's Mi 6 series is expected to have major upgrades in terms of both design language and internal hardware. It is said to come in two screen sizes—one a generic, 5.1-inch Mi 6 with full HD (1920x1080p) display and a 5.7-inch Mi 6 Plus with QHD (2560x1440p) resolution.
Both the variants is expected to house same Qualcomm Snapdragon 835 octa-core powered by Android Nougat-based MIUI OS. They are also expected to come packed with 12MP dual camera on the back.
Read more: Xiaomi Mi 6 final round-up: Most probable features, price and release date details of Mi 5 successor
Where to watch Xiaomi Mi 6 series launch live:
Xiaomi fans can head to the company's official webpage (HERE) to watch the event online and also get live update on official Facebook page (HERE) and Twitter (HERE)
Set your clocks to watch Xiaomi Mi 6 series launch event live in these times:
City
Time
Time Zone
Beijing (China - Beijing Municipality)
Wednesday, 19 April 2017, 14:30:00
CST
New Delhi (India - Delhi)
Wednesday, 19 April 2017, 12:00:00
IST
Islamabad (Pakistan)
Wednesday, 19 April 2017, 11:30:00
PKT
Singapore (Singapore)
Wednesday, 19 April 2017, 14:30:00
SGT
Hong Kong (Hong Kong)
Wednesday, 19 April 2017, 14:30:00
HKT
Taipei (Taiwan)
Wednesday, 19 April 2017, 14:30:00
CST
Manila (Philippines)
Wednesday, 19 April 2017, 14:30:00
PHT
Jakarta (Indonesia - Jakarta Special Capital Region)
Wednesday, 19 April 2017, 13:30:00
WIB
Bangkok (Thailand)
Wednesday, 19 April 2017, 13:30:00
ICT
Seoul (South Korea)
Wednesday, 19 April 2017, 15:30:00
KST
Tokyo (Japan)
Wednesday, 19 April 2017, 15:30:00
JST
Canberra (Australia - Australian Capital Territory)
Thursday, 20 April 2017, 16:30:00
AEDT
Rio de Janeiro (Brazil - Rio de Janeiro)
Wednesday, 19 April 2017, 04:30:00
BRST
Johannesburg (South Africa)
Wednesday, 19 April 2017, 08:30:00
SAST
Canberra (Australia - Australian Capital Territory)
Wednesday, 19 April 2017, 17:30:00
AEDT
Moscow (Russia)
Wednesday, 19 April 2017, 09:30:00
MSK
Abu Dhabi (United Arab Emirates - Abu Dhabi)
Wednesday, 19 April 2017, 10:30:00
GST
Berlin (Germany - Berlin)
Wednesday, 19 April 2017, 07:30:00
CET
Amsterdam (Netherlands)
Wednesday, 19 April 2017, 07:30:00
New York (U.S.A. - New York)
Wednesday, 19 April 2017, 02:30:00
EDT
Los Angeles (U.S.A. - California)
Tuesday, 18 April 2017, 23:30:00
PST
Ottawa (Canada - Ontario)
Wednesday, 19 April 2017, 02:30:00
EST
Paris (France)
Wednesday, 19 April 2017, 08:30:00
CET
London (United Kingdom - England)
Wednesday, 19 April 2017, 07:30:00
GMT