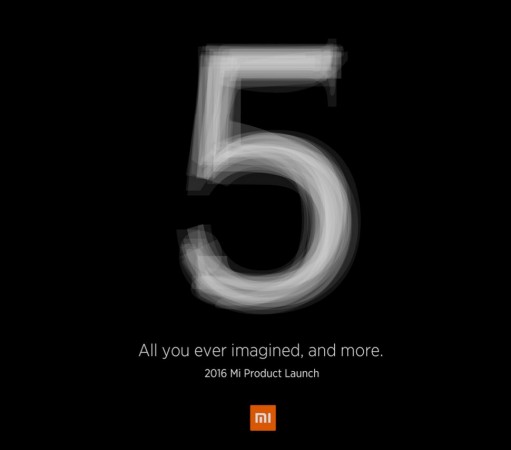 Xiaomi is just a week away from officially unveiling the much-awaited Mi 5 smartphone, and a new leak pretty much confirms all the key details about the upcoming flagship. There isn't anything surprising about the new leak as the specs are in line with the previous rumours about the device, but it certainly gives a heads-up of what's coming, or it might even kill the suspense.
The Chinese smartphone maker is hosting an event in Beijing, China, on Feb. 24, to launch the Mi 5, which will also be showcased at the MWC 2016 in Barcelona on the same day. The leaked image obtained by GizmoChina reveals that the Mi 5 smartphone will feature a 5.15-inch Full HD display with 1080 x 1920 pixels, Qualcomm Snapdragon 820 quad-core chipset clocking speeds at 2.5GHz and a 3,000mAh battery.
The leaked image, which appears to be a retail package sticker of the Mi 5 smartphone, adds that the 2016 flagship will sport a USB Type-C connector, a 16-megapixel rear camera and a 4MP Ultrapixel front camera. The Mi 5 camera samples have already been shared by the company's head of global operations, Hugo Barra, building suffice hype around the detail and clarity of the images the handset would deliver.
Xiaomi has already confirmed that its Mi 5 smartphone will come with dual SIM support and NFC connectivity. According to GizmoChina, the image also confirms the fingerprint scanner integrated in the Mi 5 for security, a feature which is quite expected considering the competition.
Based on earlier leaks, Xiaomi is tipped to launch the Mi 5 in two variants -- 3GB RAM with 32GB storage and 4GB RAM with 64GB storage. The choice of processor will also enable the Mi 5 to support Quick Charge 3.0 tech. There are also rumours that Xiaomi will launch a limited edition Mi 5 with Microsoft Windows 10 OS, in addition to the Android Marshmallow-powered device.
There is little known about the pricing of the Mi 5, but some details are best left for the official launch, which is exactly one week away.