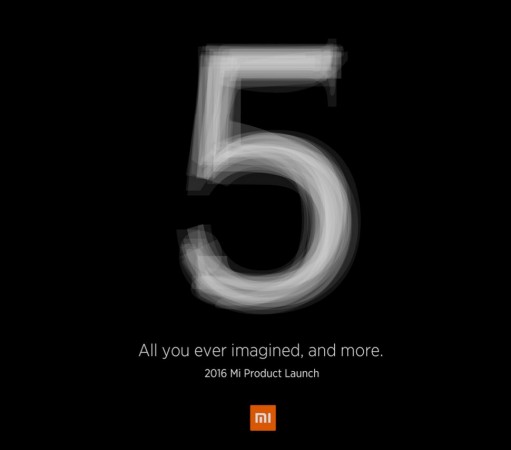 Xiaomi has emerged as one of the world's major smartphone markers within just a few years. It proved sceptics wrong by doing good business from its array of devices ranging from low-cost to mid-range handsets with impressive specifications. The company is in news again with its flagship device, the Mi 5, which is set to be released soon.
So much has been written about the device from release date to specifications but most of it is perspective at the moment. Here is round-up and what we know so far about Xiaomi Mi 5:
Release date
The Chinese smarkphone maker has confirmed that its next-generation smartphone will be unveiled at the upcoming Mobile World Congress 2016 (MWC 2016). Liwan Jiang, co-founder and senior vice president of Xiaomi, said that the Mi 5 will be launched on 24 February. The device is expected to hit the stores in March.
Display & design
There are contradictory reports on the screen size of Xiaomi Mi 5. Several reports have claimed that it will sport a 5.2-inch QHD touchscreen with 2,560x1,440 pixels. However, GFXBench listing states the device would have a 5.7-inch display with 1,920x1,080 pixels.
In terms of design, no credible renders have been leaked so far except the one shared by a Weibo user and tweeted by Steve Hemmerstoffer of NowhereElseFr. The picture of the rumoured device has a glass back panel that looks trendy.
Hardware & software
The device is expected to be powered by a Qualcomm Snapdragon 820 processor clocking at 2.1GHz, house an Adreno 530 GPU and run on Google's latest firmware Android 6.0 Marshmallow. It has also been reported that the company will release Windows 10 Mobile variant, but it has not been confirmed yet.
Memory
Xiaomi Mi 5 is expected to come packed with a 16GB and 64GB internal memory, and a 3GB RAM. It is very unlikely to have a microSD card slot like its predecessor Mi4.
Camera & battery
Xiaomi's flagship device is expected to house a 16MP main camera with OIS and an 8MP front-snapper. It is also expected to be powered by a 3,600mAh battery with Quick Charge v3.0 technology.