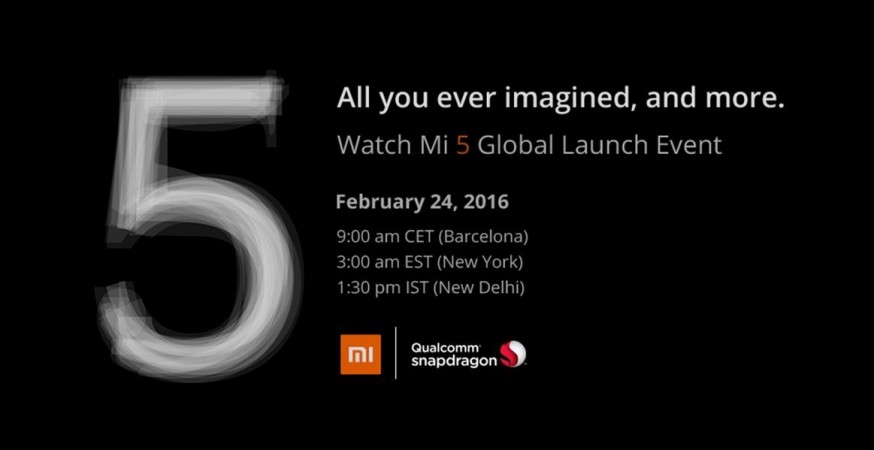 Xiaomi has confirmed it will showcase the eagerly awaited Mi 5 at the ongoing Mobile World Congress (MWC) 2016 event in Barcelona Feb 24. The event will kick off at 9 a.m. CET (01:30 p.m. IST) local time.
Since this is the company's first international product launch, Xiaomi has made arrangements to stream the Mi 5 launch event live online to facilitate millions of fans across the globe to watch the event live on the PC and smartphones.
Highlights of Xiaomi launch event at MWC 2016:
As mentioned earlier, Xiaomi has confirmed it will unveil the Mi 5, but what we don't know is what features it will come with. The company is also expected to reveal the device's price and release details. Word on the street is Xiaomi may use the Mi 5 event as a launch pad to announce its foray into the American and European markets.
Xiaomi Mi 5: What we Know so Far
Xiaomi Mi 5 is said to sport a 5.2-inch full-HD display and come with a Snapdragon 820 quad-core processor, 3GB/4GB RAM, 32GB/64GB inbuilt memory, a 16MP primary camera on the back and a 4MP UltraPixel snapper on the front.
Read more: Xiaomi Mi5's most probable features
The event coverage will be streamed live on the company's official YouTube channel HERE.
[Note: Xiaomi Mi 5's localised launch event slated to take place in China will happen a little early in the day, around 11:30 a.m. IST. It won't be live-streamed online]
Xiaomi Mi 5 global launch live coverage time zone details:
| | | |
| --- | --- | --- |
| City | Time | Time-Zone |
| Barcelona (Spain) | Wednesday, Feb. 24, 2016, 09:00:00 | CET |
| San Francisco (U.S.A. – California) | Wednesday, Feb. 24, 2016, 00:00:00 | PST |
| New York (U.S.A. - New York) | Wednesday, Feb. 24, 2016, 03:00:00 | EST |
| Ottawa (Canada- Ontario) | Wednesday, Feb. 24, 2016, 03:00:00 | EST |
| Rio de Janeiro (Brazil – Rio de Janeiro) | Wednesday, Feb. 24, 2016, 05:00:00 | BRT |
| London (United Kingdom – England) | Wednesday, Feb. 24, 2016, 08:00:00 | GMT |
| Paris (France) | Wednesday, Feb. 24, 2016, 09:00:00 | CET |
| Berlin (Germany) | Wednesday, Feb. 24, 2016, 09:00:00 | CET |
| Amsterdam (Netherlands) | Wednesday, Feb. 24, 2016, 09:00:00 | CET |
| Johannesburg (South Africa) | Wednesday, Feb. 24, 2016, 10:00:00 | SAST |
| Moscow (Russia) | Wednesday, Feb. 24, 2016, 11:00:00 | MSK |
| Abu Dhabi (United Arab Emirates - Abu Dhabi) | Wednesday, Feb. 24, 2016, 12:00:00 | GST |
| Islamabad (Pakistan) | Wednesday, Feb. 24, 2016, 13:00:00 | PKT |
| New Delhi (India - Delhi) | Wednesday, Feb. 24, 2016, 13:30:00 | IST |
| Indonesia (Jakarta) | Wednesday, Feb. 24, 2016, 15:00:00 | WIB |
| Beijing (China - Beijing Municipality) | Wednesday, Feb. 24, 2016, 16:00:00 | CST |
| Hong Kong (Hong Kong) | Wednesday, Feb. 24, 2016, 16:00:00 | HKT |
| Singapore (Singapore) | Wednesday, Feb. 24, 2016, 16:00:00 | SGT |
| Taipei (Taiwan) | Wednesday, Feb. 24, 2016, 16:00:00 | CST |
| Seoul (South Korea) | Wednesday, Feb. 24, 2016, 17:00:00 | KST |
| Tokyo (Japan) | Wednesday, Feb. 24, 2016, 17:00:00 | JST |
| Canberra (Australia - Australian Capital Territory) | Wednesday, Feb. 24, 2016, 19:00:00 | AEDT |