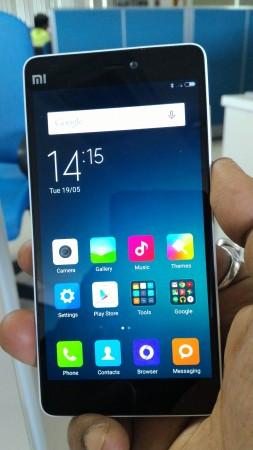 Lenovo has launched a new smartphone, S60, which has been priced at ₹ 12,999. Having the price tag, the latest smartphone will compete with the two most popular smartphones, Xiaomi Mi 4i and ASUS ZenFone 2 ZE550ML, in the country. Available at the same price tag, all the three smartphones have their distinct pros and cons.
Here is the specification comparison of Xiaomi Mi 4i, ASUS ZenFone 2 ZE550ML and Xiaomi Mi 4i.
Build and Design
Featuring an all-plastic design, all the three devices feature distinct design features. While Xiaomi Mi 4i sports a unibody matte finished flat back compact design, ZenFone 2 ZE550ML features a brushed metal finished curvy back cover like its older sibling. Lenovo S60 also looks quite similar like its inexpensive mates, A6000 and A7000.
Except Lenovo S60, we tried the other two smartphones and going by ergonomics, Xiaomi Mi 4i beats ZenFone 2 ZE550ML for its compact form factor.
Display
ZenFone 2 ZE550ML and Lenovo S60 both features identical 720p resolution display, but differs in size. While ZenFone 2 ZE550ML sports a 5.5-inch display, Lenovo S60 offers a 5-inch display. Both the displays differ in PPI counts, while ZenFone 2 ZE550ML has 267PPI, Lenovo S60 offers 294PPI.
Leading in this segment, Xiaomi Mi 4i boasts a 5-inch IPS display with 1,080x1,920 resolution at 441PPI pixel density count.
Processor and RAM
Xiaomi Mi 4i is powered by an Octa-Core Snapdragon 615 (2nd Gen) SoC, while ASUS ZenFone 2 ZE550ML comes with a 1.8GHz Quad-Core based Atom Z3560 processor. S60 stands quite at par with ZenFone 2 model by packing a SnapDragon 410 System-on-Chip.
All the three devices come with 2GB RAM memory.
Software
Xiaomi MI 4i and ASUS ZenFone 2 ZE550ML run on the latest Android 5.0.2 Lollipop OS, while Lenovo S60 runs on Android 4.4.4 Kitkat though Lollipop is expected to come to the device.
All the three phones feature their home-made interface over the stock Android.
Storage
Both Xiaomi Mi 4i and ZenFone 2 ZE550ML come packed with 16GB inbuilt memory, but Mi 4i skips the expandability option. Lenovo comes with 8GB internal storage expandable up to 32GB.
Camera
All the devices draw in this category by offering a 13mp rear and 8mp front snapper. We tested both Xiaomi Mi 4i and ASUS ZenFone 2 ZE550ML's camera and found them pretty decent, but we're yet to give any feedback on Lenovo S60's camera until we review the smartphone.
Battery
Xiaomi Mi 4i and ASUS ZenFone 2 ZE550ML are powered by non-removable 3,120 and 3,000mAh batteries respectively, while Lenovo S60 is powered with a 2,150mAh battery.
Conclusion
Though all the devices scored tie in several specifications, we think Xiaomi Mi 4i is a better buy if you are looking for a compact smartphone with powerful specs. If memory limitation of the device makes you worried, go for ASUS ZenFone 2 ZE550ML.