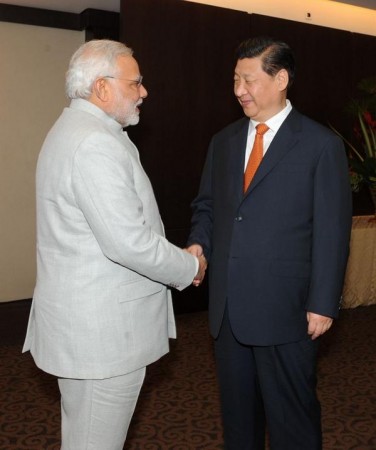 In one of the most significant bilateral meets yet for the Modi government, Chinese President Xi Jinping will begin his three-day India visit in Modi's turf of Gujarat, with the duo set to sign important deals outside Delhi for the very first time.
One of the first on the agenda between the two leaders will be Memorandum of Understandings for setting up of Chinese industrial parks in Ahmedabad and Pune.
India is also looking forward to a buffet of investments from China in the railways, bullet trains, infrastructure, and power generation sectors.
But what has soured the Chinese President's visit is the incessant aggression along the Line of Actual Control, as Chinese and Indian troops were engaged in a heated face-off over the last few days. Chinese civilians have also reportedly been brought in government vehicles to the Indian territory to disrupt work on an irrigation project in Ladakh.
The two leaders had, in fact, discussed the border issue during their first meeting on the sidelines of the BRICS Summit in July.
China, however, has once again brushed off the issue saying there still is 'stability' along the border.
"As per the border issue, China's position is consistent. We believe that for a long time China and India have maintained stability in border areas, and this issue does not influence bilateral ties," Chinese foreign ministry spokesman Hong Lei said.
While border issues have always been a bane in Indo-Chinese relations, another thorn that may prick China is that of India's strengthening bonds with Japan and Vietnam, known not to be best friends with the Chinese.
In fact, as Indian President Pranab Mukherjee wraps up his Vietnam visit with some key deals in offshore oil exploration, China has sent out a stern warning to India regarding exploration in the disputed South China Sea.
Lei, on Tuesday, warned India against ONGC's exploration of oil wells within the waters of the disputed South China Sea
"We have noted President's Mukherjee's visit to Vietnam. I would like to point out that China has indisputable sovereignty over Nansha islands and adjacent waters," The Times of India quoted Lei as saying.
"We hold no objection to legitimate and lawful agreement between Vietnam and a third country. But one thing is to be clear. If such agreement involves waters administered by China or if such cooperation project is not approved by the Chinese government, then we will be concerned," he said.
India and Vietnam have signed seven pacts including a letter of intent (LoI) between ONGC Videsh Limited (OVL) and Vietnam Oil and Gas Group (PetroVietnam).
Modi's recent much-hyped visit to Japan may have also unsettled China, given that it is in one of its most hostile phases with Japan over island disputes and maritime activities.