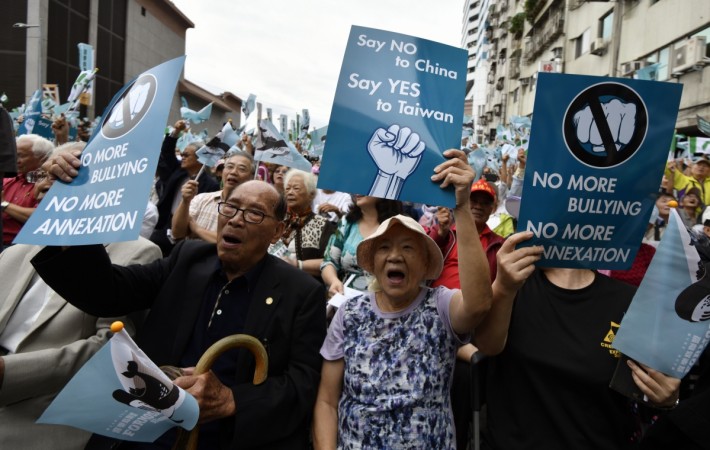 Chinese President Xi Jinping has unequivocally said he wants to see the reunification of self-ruled Taiwan with mainland China.
Democratic Taiwan's reunification with the Communist China is an "inevitable requirement" said Xi, who has cemented his position as the most powerful Chinese leader in many decades.
China has never ruled out the option of annexing Taiwan, by force if needed. However, the sensitive issue is often treated with care on both sides of the divide. With Xi amassing unprecedented powers, and with calls for independence becoming more fervent in Taiwan, the dynamics have changed.
"China must and will be united, which is an inevitable requirement for the historical rejuvenation of the Chinese nation in the new era," Xi said in Beijing on Wednesday.
"It's a legal fact that both sides of the strait belong to one China, and cannot be changed by anyone or any force," Xi added, according to Bloomberg.
'Will not renounce use of force'
The Chinese President also underscored the line that Beijing is "not committed to renouncing the use of force."
"We make no promise to renounce the use of force and reserve the option of taking all necessary means," the president said.
Xi also fired a warning to everyone who supports Taiwanese independence, which includes Taiwanese President Tsai Ing-wen.
"We are willing to create broad space for peaceful reunification, but will leave no room for any form of separatist activities," Xi told a gathering in the Beijing's Great Hall of the People.
In her New Year address, Tsai, who stoutly defies the 'One China' principle, had warned against continued aggression from China.
Xi was speaking at an event organised to mark the 40th anniversary of Beijing's decision to suspend overt hostilities against the breakaway domain. The split happened in 1949 when Chiang Kai-shek's Chinese Nationalist forces were driven by Mao Zedong's Red Army to the southern island after they lost the civil war against the Communists.
In October, the Chinese defence minister had said Beijing would thwart any attempt for Taiwan's independence "at any cost".
Pro-independence rally
"If someone tries to separate out Taiwan (from China), China's army will take the necessary actions at any cost," Defence Minister Wei Fenghe said in stern comments, according to the Channel News Asia.
China was angered after two US warships -- guided-missile cruiser USS Antietam and missile destroyer USS Curtis Wilbur -- sailed through the Taiwan Strait despite protests from China.
The US move had come two days after Taiwanese capital Taipei witnessed the largest ever pro-independence rally in the island nation's history.