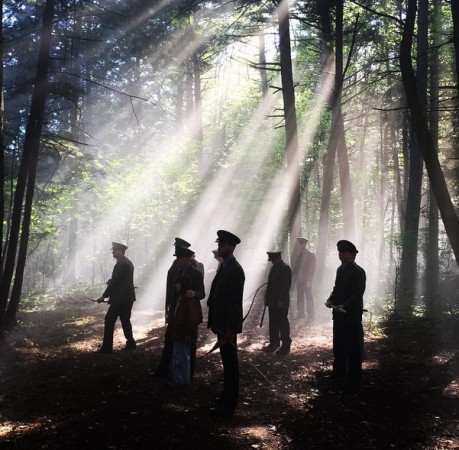 "X-Men: Apocalypse" director Bryan Singer has been using his Instagram account to give fans a number of updates on how production of the movie is progressing, and recently he posted a new photo from the Montreal set of the movie.
The photo in question shows a group of uniformed men standing in the forest armed with bow and arrows, and the only clue Singer has given is the caption that reads "The past catches up."
It is not yet known what is happening or who these uniformed men are. But it could have something to do with Michael Fassbender's Magneto, as the men resemble Nazi soldiers who faced off Magneto in "X-Men: First Class."
This would also explain why they are using a bow and arrow, as Magneto has the ability to control metal, making gun and other firearm useless.
Cinema Blend speculates that this scene could be a flashback to Magneto's young adulthood after World War II. "Plastic weapons weren't around then, so if these guys (presumably Nazis) wanted to capture the young mutant without any incidents, they would have to rely on weapons fashioned from wood and stone to take him down," the portal noted.
The exact plot of the film is yet to be revealed, but it will see the superheroes fighting Apocalypse, who is believed to be the first mutant. The result of the conflict will have a serious impact on the course of history.
"X-Men: Apocalypse" is due in cinemas in May 2016. This will be the last movie in which Jennifer Lawrence will play Mystique and Wolverine actor Hugh Jackman is also set to move on soon.
But Fassbender recently revealed that he doesn't have any plans to ditch Magneto any time soon.
"I will shoot a hundred of them. The contract is in three film deals, and this is the last of that. But I'll be curious to see what happens next," the actor told Variety.