Jenna Jameson, one of the legendary figures of the porn industry and once known as the "Queen of Porn", has revealed in her book How to Make Love Like a Porn Star: A Cautionary Tale, that the veteran WWF/WWE superstar The Undertaker, once had a strong desire for her.
Jameson, 43, mentioned that the Undertaker, who is currently married to Michelle McCool, used to date her when she was a 16-year-old and had just started out in the adult film industry.
The Undertaker, 52, whose real name is Mark William Calaway, used to visit frequently to Jameson's tattoo parlour back in the 1990s and that's when they started getting together. "Undertaker was one of the biggest WWF wrestlers at the time," wrote Jameson in her revered autobiography.
"He would put people in coffins and set them on fire in the ring. And the scary thing is, that character he played was not an act."
Jameson revealed that the Undertaker, who became a cult figure in the history of sports entertainment, was overtly possessive about her and never really entertained when any other guy tried hitting on the porn star.
She mentioned that a man once attempted to buy her a drink and that's when the gigantic pro wrestler butted in and told the man: "You can get me a shot of Jaeger and you can get yourself a shot of shut-the-f***up," wrote Jameson.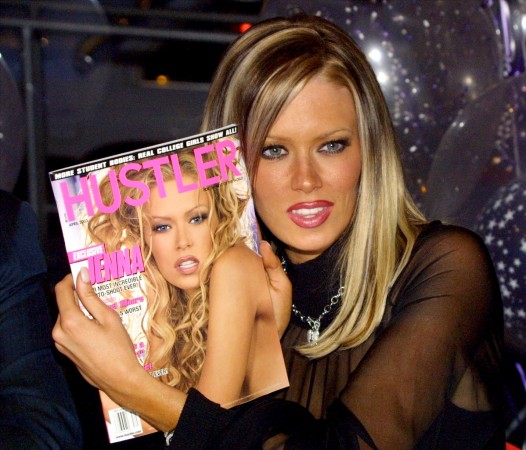 Jameson, who has come out as a bisexual, and has reportedly had been in a relationship with several men and women -- from Tito Ortiz to Marilyn Manson -- over the course of her career, got married thrice -- with Brad Armstrong in 1996 and Jay Grdina in 2003. Both marriages headed for a divorce, while her 2015 marriage with Lior Bitton is reportedly going smooth.
The Undertaker, meanwhile, has also married three times in his life: First wife - Jodi Lynn (1989-1999), Second wife - Sara (2000-2007), Third wife - Michelle McCool (2010-active). Michelle and him also have a daughter together.
The 'Deadman' has been last seen in the WWE at WrestleMania 2017. He will be back for the 25th anniversary of Monday Night Raw on January 22, 2018.