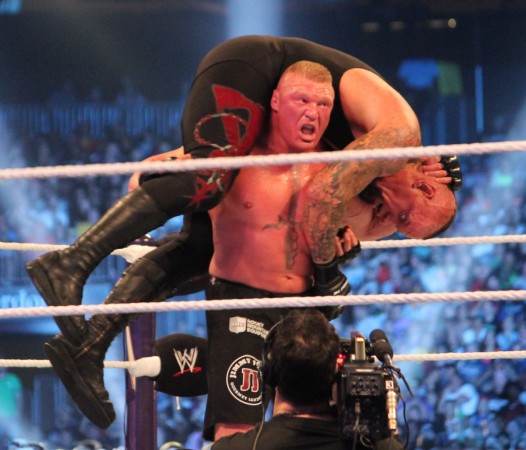 Expect fireworks in the final edition of Monday Night Raw ahead of Survivor Series 2016 as two legendary pro wrestling figures Brock Lesnar and Goldberg finally have a showdown. The November 14 edition of the weekly WWE event comes live from the Keybank Centre in Buffalo, New York.
What a week combat fans in New York are having! After the historic UFC 205 took place on Saturday night at the Madison Square Garden, comes a landmark WWE Monday Night Raw event.
So far, it is only talks that have done the rounds. A face-to-face encounter, well, no. Goldberg and Lesnar collided the last time in 2004 in WrestleMania 20. Since then, the both have never met each other in the pro wrestling ring nor in any kind of an unofficial combat sports arena.
Things change on Monday.
Meanwhile, let us look at what else to expect from this edition of the Monday Night Raw, apart from the above segment:
Two brands collide
Following the brand split, Team Red (Monday Night Raw) and Team Blue (Smackdown Live) have been enjoying a healthy rivalry. On Survivor Series 2016, the rivalry gets physical. The WWE event is this Sunday, but we may not have to wait for long to see the top five WWE superstars from each of these brands get involved in a fight against each other this Monday.
Smackdown Live Commissioner Shane McMahon and General Manager Daniel Bryan are scheduled to be in the Buffalo event and this could lead to a heated confrontation between Monday Night Raw Commissioner Stephanie McMahon and General Manager Mick Foley.
What will Sami Zayn do?
It's official! Sami Zayn will compete against Dolph Ziggler for the WWE Intercontinental title -- a classic Raw vs Smackdown showdown at the Survivor Series 2016. This edition of Monday Night Raw is expected to build up the match even further, and if WWE has a surprise in store, Ziggler could make his appearance.
Schedule
WWE Monday Night Raw (14 November 2016) is scheduled for a 8 pm ET (6 am IST, 1 am GMT [Tuesday]) start.
Where to watch live
India: TV - Ten 2, Ten 1 HD
UK: TV - Sky Sports 5/HD
USA: TV - USA Network
Live streaming - WWE Network
Live updates - WWE Twitter