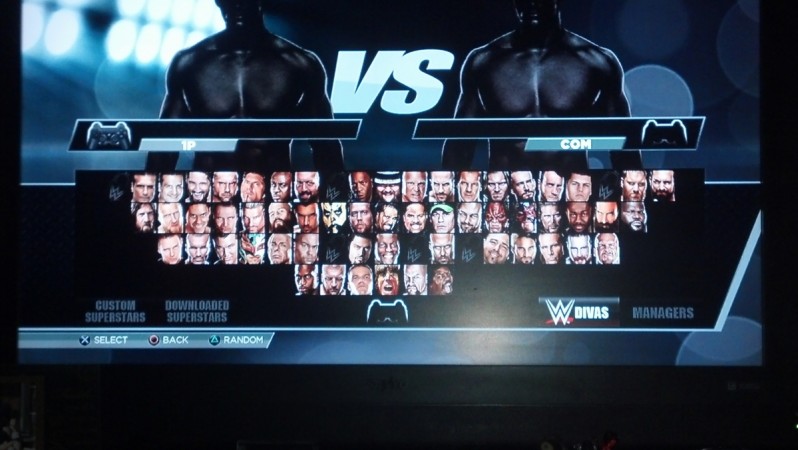 The full roster of WWE 2K15 has reportedly been leaked by early owners of the game. However, the full list does not include legends like Bret Hart, as many fans wanted to know if he too is in the game.
A member of the 2K Forums released a screenshot of the game with the faces of the in-game rosters (the locked tiles in the screenshot are of The Rock, Sami Zayn, Adrian Neville, Bo Dallas, Corey Graves and Rusev.)
WWE 2K15 is set to release today (28 October) in the US and on 31 October for PlayStation 3 and Xbox 360. The next generation version will be releasing on 18 November in the US and on 21 November in Europe.
Here are the 11 wrestlers who were not previously confirmed by 2K Sports.
Alberto Del Rio (Retro)
Batista (Retro)
Booker T
Chris Jericho (Retro)
CM Punk (Retro)
Daniel Bryan (Retro)
Kane (Retro)
Kevin Nash
Randy Orton (Retro)
Ric Flair
Ultimate Warrior
Apart from this he also posted some details of the game:
Looks like nothing changed on Create-a-Superstar. And it has the same heads from last year.
Superstar Heads use Create-A-Wrestler bodies, again. I looked through the costume, didn't see anything new.
Curtis Axel model isn't great. He has a tiny body compared to his head.
Not detected any weight detection. Punk can do crazy stuff with Big Show.
Austin doesn't have his jacket but he has knee braces.
Over selling stunner (No new SCSA stunner)
Elimination Chamber plays and looks the same
Kane has fixed pant flames on left leg. Unfortunately his face looks the same as last year. (Mask looks a little better but hair is still on the side of the face) Kane was also seen in current generation.
The half mask Kane has a tan.
There are no other divas.
Below are the full roster for WWE 2K15:
Male Superstars:
Adrian Neville
Alberto Del Rio
Retro Alberto Del Rio?
Bad News Barrett
Batista
Retro Batista
Big E
Big Show
Bo Dallas
Booker T
Bray Wyatt
Brock Lesnar
Cesaro
Chris Jericho
Retro Chris Jericho
2011 CM Punk
CM Punk
Cody Rhodes
Corey Graves
Curtis Axel
Damien Sandow
Daniel Bryan
Daniel Bryan (2010 – 2012)
Darren Young
Dean Ambrose
Dolph Ziggler
Erick Rowan
Fandango
Goldust
Jack Swagger
Jey Uso
Jimmy Uso
John Cena
Justin Gabriel
Kane (Masked)
Kane (2003 Masked)
Kevin Nash
Kofi Kingston
Luke Harper
Mark Henry
The Miz
Randy Orton
Retro Randy Orton
Rey Mysterio
Ric Flair
Rob Van Dam
The Rock
Roman Reigns
R - Truth
Rusev
Ryback
Sami Zayn
Santino
Seth Rollins
Shawn Michaels
Sheamus
Stone Cold Steve Austin
Titus O'Neil
Triple H
Tyson Kidd
Ultimate Warrior
Undertaker
Xavier Woods
Divas:
Brie Bella
Nikki Bella
AJ
Natalya
Tamina Snuka
Naomi
Cameron
Summer Rae
Pre-Order Exclusive:
Sting (Crow Version)
Sting (Surfer Version)
Hulkamania Edition:
Hulk Hogan (Red and Yellow)
Hollywood Hulk Hogan (NWO)
Season Pass Bonus:
2K Showcase - One More Match:
(It will also include Randy Orton, Sheamus and Mark Henry. But they will have the same character models as in the game.)
2K Showcase - Hall of Pain:
The Great Khali
Unmasked Kane?
(Mark Henry, Big Show, Jey Uso, Jimmy Uso, Sheamus, Randy Orton, Daniel Bryan and Ryback are all part of this sotyrline. There could be a possibility of adding Unmasked Kane as DLC)
2K Showcase - Path of the Warrior:
Ultimate Warrior
Hulk Hogan
Andre the Giant
Sgt. Slaughter
Honky Tonk Man
Rick Rude
Macho King
Colonel Mustafa
Undertaker (Retro)
Hunter Hearst Helmsley
WCW Pack:
Fit Finlay
Lord Steven Regal
Bam Bam Bigelow
Diamond Dallas Page
Lex Luger
NXT Arrival:
JBL
Adam Rose
The Ascension (Konnor and Victor)
Emma
(Source: Attack of the Fanboy)
IGN Review Rates it Mediocre
Popular gaming website, IGN that had exclusive videos and screenshots of the WWE 2K15 prior to the release has reviewed the game and has given it a disappointed 5.9/10, a mediocre rating.
It also added, "Do yourself a favor, save your money, and buy WWE 2K14. The minor improvements to combat and commentary in 2K15 don't even come close to making up for what was lost."
The Wyatt Family Entrance and Sami Zayn Moveset
(YouTube Courtesy: WWE 2K)
(YouTube Courtesy: Espacio Ninja)