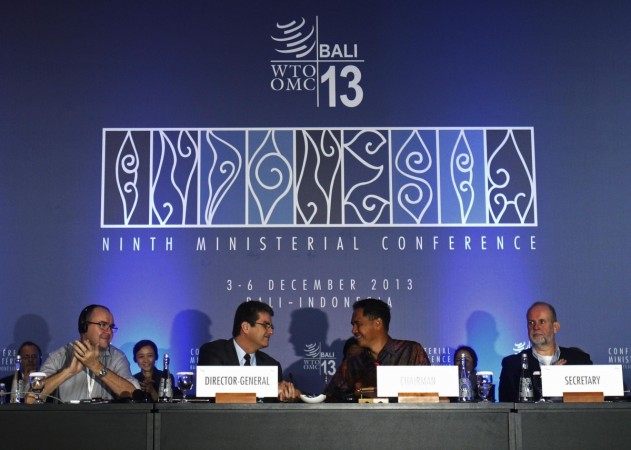 After refusing to sign the World Trade Organisation's trade facilitation agreement in July this year, India has finally decided to cut out a few of its demands by not insisting on future welfare scheme's protection and allowing the deal to get finalised soon.
The Trade Facilitation Agreement (TFA) was one among the 10 agreements of the deal the WTO members had agreed upon in December 2013 Bali meeting. India, however, blocked the Bali deal on 31 July 2014 by not signing it, as the country wanted the organisation to agree to its demands before ratifying the deal.
During the 2013 meeting, India had forced the United Nations and European Union for allowing it to stockpile foodgrains more in quantity than what the WTO rule permits and at subsidised rates along with immunity from being challenged in the future by its members. The WTO agreed to India's demands and sought four years time to make the agreement permanent.
Despite the WTO's assurance, India was persistent on getting it finalised sooner and pressed the organisation to speed up the procedures, which was unlikely to happen and thus, India pulled back from ratifying the Bali deal.
However, getting lenient with its earlier demands, India has decided to present a renewed proposal on 21 October at the WTO's general council meeting in Geneva, according to Hindustan Times report.
The re-newed and Curtailed Demands
Curtailments
India is likely to take back their firm stance on getting immunisation from not being questioned by the WTO members for amassing food grains at subsidised rates. Also, it will not press the organisation for allowing protection for India's welfare schemes that will be launched in the future.
Renewed Demands
During the 21 October meeting, India will insist on laying down rules for the existing subsidies that also includes India's Food Security Bill, which ensures food security for the nation's poor, for which India will propose a "peace clause" during the meeting.
Unlike its earlier persistence in getting permanent immunisation sooner, India has decided to seek immunity from being challenged by the organistaion members under the agreement until the existing subsidy scheme that has a cap limit fixed in 1986-88 is amended. India had demanded norms amendment for calculating food subsidies that allow the WTO members to stockpile foodgrains at 10% of total production value, which is the age old capped rule.
The TFA deal was meant to make the mechanism of global customs transparent resulting in easier, faster and cheaper trade between the WTO members, and to lift up world economy by generating as much as 21 million jobs, of which 18 million will be in developing nations, including India, Pakistan and others.