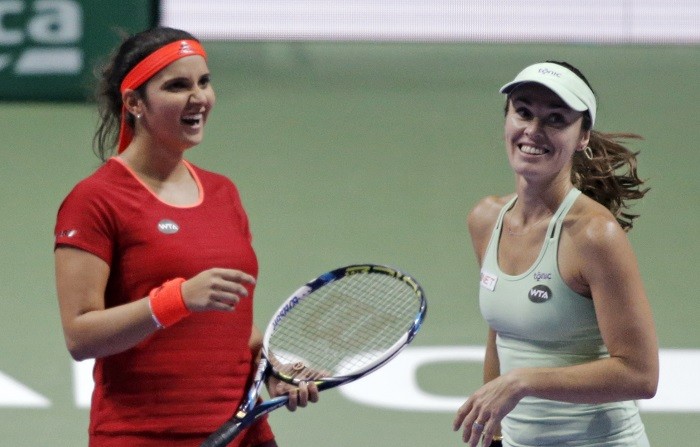 Sania Mirza and Martina Hingis picked up a hard-fought victory in their first match back as a pair. Reunited to defend their WTA Finals crown, Sania and Hingis were made to work for their quarterfinal victory by Hao-ching Chan and Yung-jan Chan in Singapore on Friday.
In the end, though, the better team prevailed, just about, with the No.2 seeds winning the match 7-6 (12-10), 7-5 in an hour and 54 minutes.
Sania and Hingis began the match well, with chances to break their opponents coming about in their first two service games, but the former world number one pair failed to take advantage. They kept holding their own serves comfortably enough, even if they did have to save one break point early in the match, and all the opening pressure was on the service games of the two Chans.
As the set wore on, however, the Sania-Hingis serve came under fire, with the duo having to save several break points just to push the first set to the tie-breaker.
In that tie-break, Sania and Hingis had quite a few chances, but they just could not get over the line, with the Indian-Swiss pair failing to take the set point on serve when they were 6-5 up. The Chinese Taipei pairing was tenacious and just like that they rang-in two points in a row off their opponent's serve to get to a set point at 7-6.
However, all the experience of Hingis and Sania came out in that crucial point and it was back level again in this all-important opening set tie-break, with the score going all the way up to 11-10 in favour of the No.2 seeds. The pressure finally told on Hao-ching and Yung-jan, allowing Sania and Hingis to wrap up the tie-break 12-10 and with it the first set.
With the opening set in the bag, Sania and Hingis started the second out strong, and while they failed to take advantage of a break point in the first game, they grabbed the opportunity in the third, with it jumping into a 2-1 lead.
Hao-ching and Yung-jan would break back immediately, though, to pull the set back level again, only to drop their second consecutive serve to hand the advantage right back to the Australian Open champions.
A consolidation of the serve would follow, but three straight games from the Chinese Taipei team would turn the fortunes around in the set. That 5-4 lead would be the closest they would come, however, with Sania and Hingis winning three games in a row of their own to finish the set and the match.