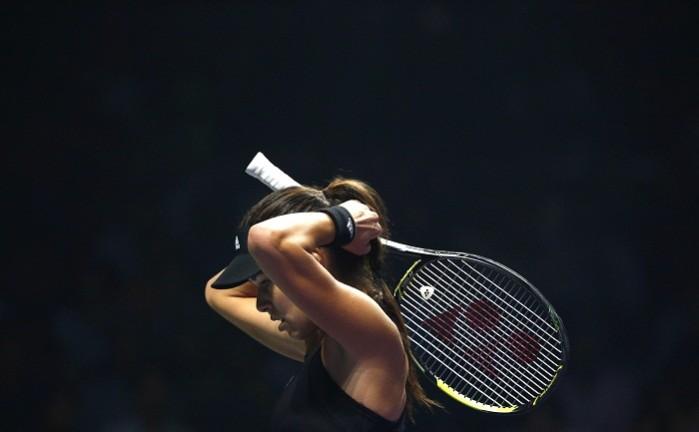 Serena Williams and Simona Halep will look to take charge of the Red Group when the two face-off in a crucial encounter at the WTA Finals in Singapore.
Both players picked up victories on day one, with Serena defeating Ana Ivanovic, while Halep got the better of Eugenie Bouchard.
Victory for either on Wednesday could see them through to the semifinals, depending on the result from the second match – between Ivanovic and Bouchard.
However, even if their passage to the next round is not confirmed with a win, both Serena and Halep will know that the importance of making it two wins out of two.
Serena, the defending champion, had to come out of a difficult contest with Ivanovic to start her WTA Finals campaign off on a positive note, and the American world number one was happy to finish the match unscathed after a recent knee injury.
"I felt the knee a little bit," said Williams to the WTA's official website after the Ivanovic win on Monday. "But compared to what it was in Beijing, it feels so much better.
"I'm getting better, which is great. Just have to keep doing my program so by the end of the week, hopefully -- if I'm here -- I'll still be getting better."
Halep was impressive in her win over Bouchard, and the Romanian, making her debut in the season-ending tournament, will want to add the big win over Serena to her increasingly impressive resume.
The second match of Day 3 will be an interesting one, as both players will be fighting for survival. While a loss on Wednesday will not necessarily mean definite elimination, both Ivanovic and Bouchard will know their chances of making the semifinals of the WTA Finals will be considerably weakened if they lose a second straight match.
"I think it's totally weird," Bouchard said about losing the first match but still being very much in contention in the tournament. "Because my coach is like, 'Ok, what time do you want to practice tomorrow?'
"Usually I take a day off after I lose. So that maybe makes you think less about the loss. I have to move on much quicker from it, which can be a good thing. So not really think about it too much, because you have to prepare for another match in two days."
Ivanovic could have easily come out on top against Williams had she taken her chances better and stayed in control in the crucial points, and that will be on aspect that the Serbian will look to improve on against Bouchard.
Doubles action at the WTA Tour Finals will also kickoff on Wednesday, with Alla Kudryavtseva and Anastasia Rodionova taking on Ekaterina Makarova and Elena Vesnina in the first doubles match, while Garbine Muguruza and Carla Suarez Navarro will face Hsieh Su-wei and Shuai Peng later in the night.
Where to Watch Live
Get the Serena Williams vs Simona Halep Report HERE
The Day session is set to begin at 2 pm Singapore time (12.30 pm IST, 8 a BST, 3 am ET). The first singles match between Serena Williams and Simona Halep will start after the first doubles match of the day session. Eugenie Bouchard vs Ana Ivanovic is scheduled to begin at 7.30 pm Singapore time (5 pm IST, 12.30 pm BST, 7.30 am ET).
The matches, including the doubles, can be watched via live streaming online on WTA Live or Tennis TV. Viewers in the US can catch the action on ESPN 3 or on Watch ESPN.