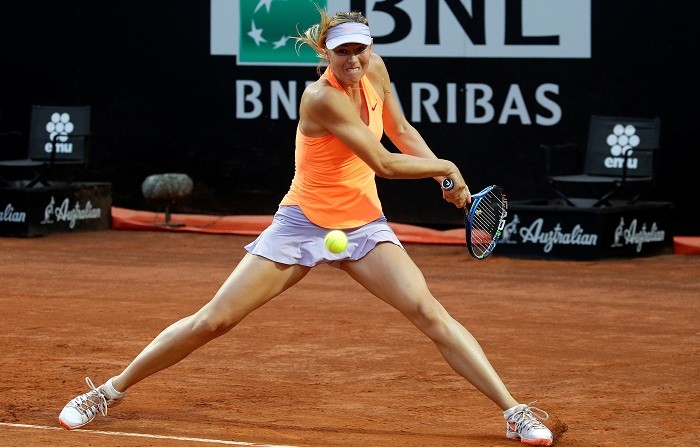 Maria Sharapova fans around the world must be devastated with the fact that the former world no.1 was denied a wild card entry into this year's French Open by French Tennis Federation (FFT) President Bernard Giudicelli.
Since returning from her 15 month doping ban, Sharapova has received three wild card entries into the Stuttgart Open, Madrid Open and most recently the Italian Open. The Russian beauty did well enough in the Stuttgart Open to get back into the top 200 WTA ranking and her first round win at the Italian Open was enough to get her into the qualifying round of Wimbledon.
Also read: No French Open wildcard shows the Maria Sharapova star is starting to fade
However, a second round exit at the Madrid Open hampered her chances of getting an automatic place in qualifying round in the French Open as she was not able to acquire enough ranking points. Since her return and all her wild card entries, the two time French Open winner has received a lot of criticism from her fellow players but after her French Open snub WTA Chief Steve Simon came to her defence.
A lot of people are suspecting that the reason FFT president Giudicelli denied her a wild card entry into the French Open was due to her recent ban but WTA Chief Simon said that the FFT are not in a position to hand Sharapova further punishment.
"Wildcards are offered at tournaments' sole discretion. I fully support the players that received wildcards and wish them the very best of luck. It's going to be a very exciting fortnight at Roland Garros," Daily Mail quoted the WTA Chief as saying.
"What I do not agree with is the basis put forward by the FFT for their decision with respect to Maria Sharapova. She has complied with the sanction imposed by Court for Arbitration of Sport (CAS). The tennis anti-doping program is a uniform effort supported by the Grand Slams, WTA, ITF and ATP."
"There are no grounds for any member of the TADP to penalise any player beyond the sanctions set forth in the final decisions resolving these matters."
Sharapova was informed of the FTT's decision right before her second round Italian Open match against Mirjana Lucic-Baroni and to make matters worse, the Russian was forced to retire from that match due to an injury. She was on course to win that match and progress to the next round having come back from a set down to win the second set and take a 2-1 lead in the final set.
Sharapova is yet to respond to the FFT's decision and following her forced retirement against Lucic-Baroni means she can't even secure a place in the main draw at Wimbledon and will have to play a qualifier.