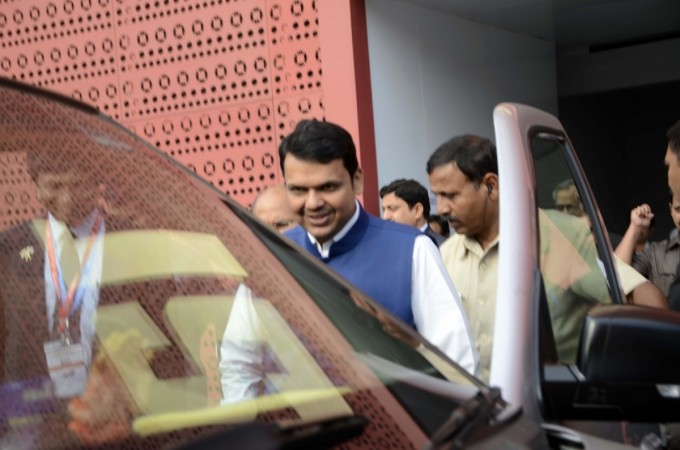 Maharashtra Chief Minister Devendra Fadnavis on Friday denied reports that he had a narrow escape when his helicopter suddenly took off just as he was about to board it at a helipad in Alibaug in the afternoon.
Fadnavis visited Alibaug to attend MLC Jayant Patil's birthday function, Raigad collector PD Malikner told the media on Friday. The Chief Minister's Office (CMO), however, denied all reports saying that there was no "accident kind of situation", and rather it was a close shave for Fadnavis. The statement discouraged citizens from believing such rumours.
As per preliminary reports by officials, the helicopter suddenly took off about two to three feet in the air just as Fadnavis was preparing to board the chopper. The rotating wings of the chopper came very close to his head.
"As the CM came near the door, the chopper suddenly took off, tilted sideways and hovered around 2-3 feet in the air... its rotating wings came very close to his head," Malikner told IANS adding that an alert security personnel acted swiftly by lunging forward to save the CM, thereby preventing any injuries to him.
The parts of the chopper were examined after the incident. Fadnavis then boarded the chopper and headed back to Mumbai.
This is the third such helicopter incident involving Fadnavis in a space of two months.
On May 12, Fadnavis' chopper developed a technical snag due to severe heat conditions in the state's Gadchiroli district, which is affected by Left wing extremism. It was important to escort Fadnavis out of the area before dark due to the dangers involved. He was driven off towards Nagpur after his chopper failed to lift off.
The second incident took place on May 25 when a chopper carrying the Maharashtra CM and six others, including two crew members, crash-landed in Latur. The helicopter got entangled in overhead wires while landing in the district's Nilanga area, where Fadnavis was supposed to hold a programme.
"It was a case of crash-landing. When we took off, we noticed that the chopper was slanting over. There was air pressure. It brushed against (electric) wires," Fadnavis said, adding that the other passengers travelling with him also escaped unhurt.