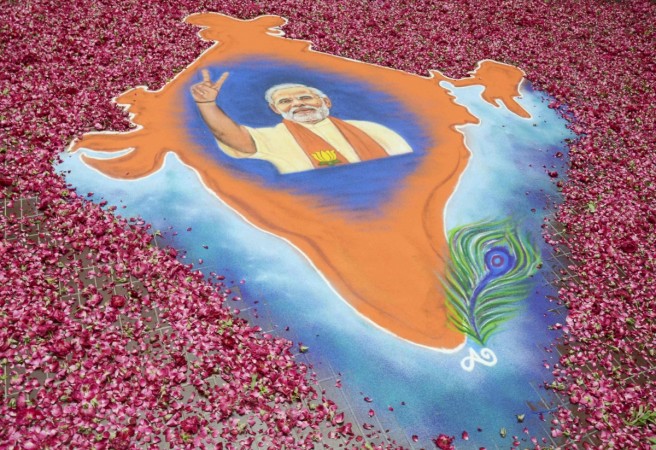 In what is seen as a major diplomatic gaffe ahead of the G20 Summit in Australia, a wrong map of India, with the state of Kashmir missing from it, was shown in the presence of Prime Minister Narendra Modi during his visit to the Queensland University in Brisbane, Australia.
The map was reportedly shown during Modi's visit to the Queensland University of Technology on Friday, where he interacted with students.
The spokesperson for the Ministry of External Affairs, Syed Akbaruddin confirmed the mistake through his Twitter account and said that India had lodged a 'strong protest' and that the organisers had apologised.
"Immediately lodged strong protest & received an unqualified regret from the organisers," Akbaruddin tweeted in response to a tweet that had brought up the issue.
"Kashmir missing in the Map shown during @PMO India visit to @QUT. @MEAIndia any objection raised?," a tweet by the account @SamajwadiSocial read.
Another Twitterati also raised objection over the issue, tweeting, "Its Wrong & How Can Australia's Queensland University of Technology showing Wrong Map infont Our PM (sic)", to which Akbaruddin has replied saying, "They erred and have given an unqualified apology for error".
It is unclear if the ministry of external affairs will raise the issue with the Australian government.
Kashmir missing in the Map shown during @PMOIndia visit to @QUT @MEAIndia any objection raised? pic.twitter.com/TgNtopYWeU

— Samajwadi Party (@SamajwadiSocial) November 14, 2014
. @SamajwadiSocial @ManMohanSharm13 @PMOIndia @QUT India's Foreign Secy raised the issue strongly and received an unqualified apology.

— Syed Akbaruddin (@MEAIndia) November 14, 2014
. @harikshn @PMOIndia @narendramodi They erred and have given an unqualified apology for error.

— Syed Akbaruddin (@MEAIndia) November 14, 2014