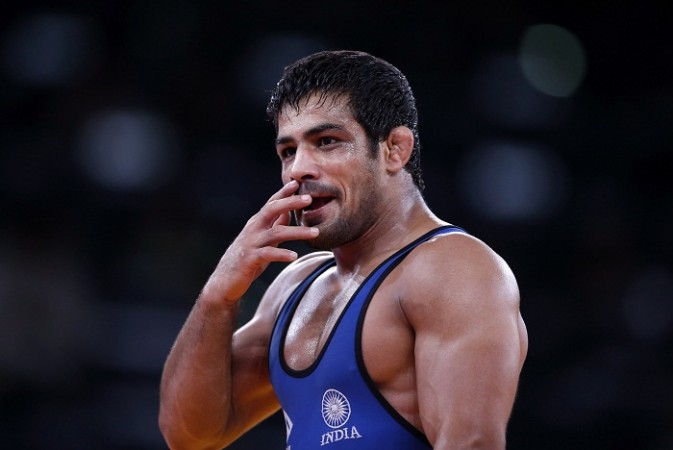 Two-time Olympic medallist Sushil Kumar was unstoppable on Friday, November 17, in Indore as he strolled his way to National Championships title in the 74kg category. A lot was expected from the 34-year-old wrestler, who was returning to competitive action after a three-year absence in a bid to revive his international career.
However, not many would have expected what unfolded in the final rounds of the one-day event in Indore as three wrestlers, including finalist Praveen Rana, helped Sushil with walkovers.
Easy challenges
Sushil just needed a minute and 45 seconds to crush his first-round opponent Lalmalsawma of Mizoram. The veteran wrestler wrapped his 22-year-old opponent in a headlock and rolled him on the mat to collect eight points on the trot. Eventually, he won the bout 10-0 (technical fall).
In the second round too, Sushil was untroubled as he pinned Mukul Mishra of Jharkhand with ease.
Array of walkovers
Victories in the first two rounds were all that Sushil needed to win the Nationals for the first time in nine years.
Sushil's quarter-final opponent Parveen was the first to give a walkover on Friday. The wrestler walked up to the Olympian, touched his feet before telling the referee that he was not going to participate in the bout.
Why walkovers
Soon after, Sachin Rathi of Uttar Pradesh followed suit. The referee gave his approval to the two wrestlers' actions by saying: "Dekhiye yehi humari parampara hai (Look, this is our tradition", as quoted by the "Times of India".
While a lot is being said about how the walkovers of the two wrestlers being disrespectful to the sport, former women's freestyle coach Kripa Shankar Bishnoi revealed what might have transpired on Friday.
"This was expected. Saare pehelwaan Sushil se thar thar kaapte hai [All the wrestlers are scared of Sushil]. The finalist [Rana], in fact, came to the mat with his shoulders already drooping. I knew he wasn't in a mood to fight Sushil and was just there to tell the referee that he was conceding the bout," Bishnoi said, as quoted by the report.
'You should not come if you don't want to wrestle'
Meanwhile Sushil's first-round opponent Lalmalsawma expressed his disappointment over walkovers given in the final rounds of the 74kg category. The Mizoram wrestler argued he also respects the veteran, but that is what forced him to face him on the mat in the first round.
"I don't think it [walkovers] is right. You should not come to a tournament if you don't want to wrestle. It isn't as if I don't respect him. I respect him so much. But that is the reason I had to wrestle him," Lalmalsawma said, as quoted by "ESPN".