The most successful driver in World Rally Championship (WRC) history, Sebastien Loeb stunned current drivers of the WRC with dramatic win at RallyRACC Catalunya (Rally Spain) on Sunday. The nine-time world champion, who got behind the steering wheel for the first time for a WRC rally since 2013, clinched the title with 2.9 seconds difference over M-Sport's Sebastien Ogier.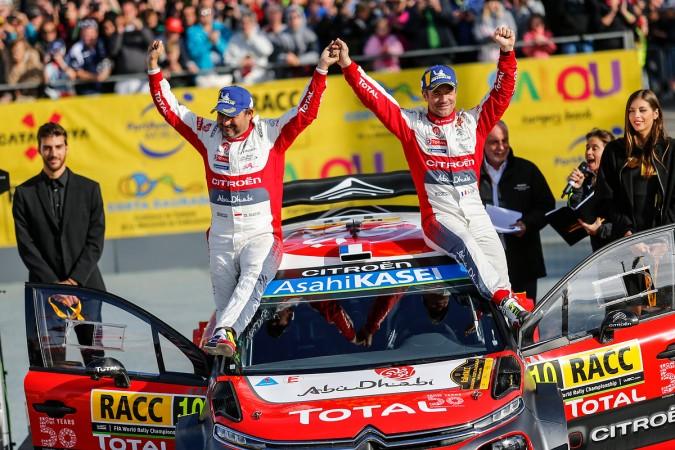 Even though the 44-year-old French driver retired from WRC in 2013, Loeb has been active in the motorsport arena and currently participates in FIA World Rallycross Championship. His decision to go for a one-off rally with co-driver Daniel Elena raised some eyebrows ahead of the Rally Spain while the end result just underlines his rallying prowess is intact and still good for another go.
Loeb driving a Citroen C3 had a clear 7.1 seconds advantage over Ogier into the final two stages. On SS17, however, Loeb spun and lost some valuable seconds. He was only 3.6 seconds ahead heading into the powerstage but managed to retain the lead by just 2.9 seconds over Sebastien Ogier who had a smooth drive in the final stages. This is the tenth closest wins in history of WRC and Loeb has also become the third oldest winner overall in the sport.
Sebastien Ogier retakes the championship lead
Reigning WRC champion Ogier driving the Ford Fiesta has retaken the 2018 championship with the second place finish with third place on the Power Stage. Pre-event point leader Thierry Neuville had a decent outing while in the last stage he suffered a rear-right broken wheel when he clipped a rock. The Hyundai driver eventually finished the rally at fourth behind Elfyn Evans (M-Sport).
2018 WRC driver's championship heads for a photo finish
With just a rally left in the season in next month at Australia, the title race will witness cut-throat completion. Ogier (204 points) has just three points lead over Neuville (201 points) while Ott Tanak is far behind with 181 points. Can Ogier clinch his sixth championship or Neuville will mark his maiden championship at Australia?