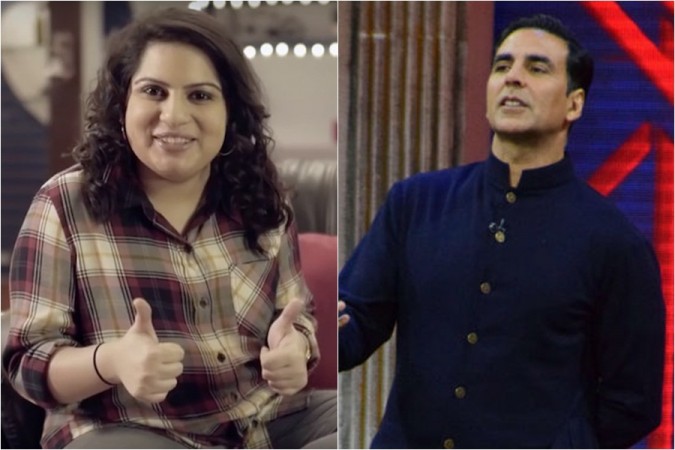 Comedian Mallika Dua, along with her father and renowned journalist Vinod Dua, created quite a stir on social media when on Wednesday they raised objection over Akshay Kumar's sexist remarks on her. Mallika was trolled heavily when she took to the social media, asking the netizens their view on the comment made by Khiladi Kumar on the sets of The Great Indian Laughter Challenge.
The trollers and critics termed it as an act by Mallika for publicity. The comedian, however, has opened up about the entire episode in a statement on Twitter, clarifying her stance and urging people "not to make this about Akshay Kumar and trivialise it."
Read the full unedited text from her statement here:
"Is Kareena Kapoor not entitled to speak about things because she played Chameli? Is Vidya Balan not entitled to speak about things because she did a dirty picture? The people who shame us for the characters we play are the same people who make it okay for a Bhupendra Chaubey to speak to Sunny Leone the way he did. Shame on you. Fortunately, you can't stop us," She slammed the trollers.
"This isn't about Akshay Kumar. This is about every big Bollywood star and every other big shot, who cannot tell the difference between charm and harm," Mallika clarified. "This is about every big celebrity who thinks his colleague enjoys being grabbed by the waist and twirled without her consent. This is about workplace etiquette for everybody, men and women included, and about understanding the idea of professional communication so we don't make someone uncomfortable in their place of work, unintentionally or otherwise."
She added, "Well, this shit makes us uncomfortable AF and we hate it. However, we are not the emotional fools most take us to be. I refuse to act on impulse and jeopardise my career for a race of crass alpha males with licences to make us cringe. It amounts to committing suicide just because every second person in the world is an asshole or not crossing the road because accidents happen. So yes, we are 100% complicit in letting it pass, sometimes for our own sake."
" Was it the single most vile act of inappropriate behaviour," Mallika quipped. "No. Was it enough to make one uncomfortable? Yes."
Then came the real snipe. "Would the superstar be offended had someone jokingly said to his daughter "Nitaara ji, aap bell bajaaiye main aapko bajaata hoon"? — most probably," the comedian said referring to the distasteful comment made by the superstar on the show.
Mallika also spoke at length about the matter to The Quint where she clarified that she, along with two mentors Zakir Khan and Hussain Dalal, were replaced by Star Plus and not Akshay Kumar. She also explained her stance for maintaining silence over the issue as sexism in the industry is normalised to such an extent that even she didn't make a huge deal of it. She also urged people not to make it about Akshay Kumar and trivialise it.