Singapore witnessed a massive outbreak of violence in Little India district, when 400 people clashed with police forces in Little India district on Sunday.
The riots, believed to be the most violent in Singapore's history, saw South Asian migrant workers battling with police and setting their vehicles ablaze after a 33-year-old Indian national was killed by a private bus driven by a Singaporean.
Little India riot: Police say 400 ppl involved, 5 police vehicles, 1 ambulance damaged. #SGRiot #LittleIndiaRiot pic.twitter.com/JqOryES5R9

— Occupy Singapore (@occupysg) December 8, 2013
At least 300 police officials were deployed in and around the the Little India neighbourhood to bring the situation under control. They arrested 27 suspects after 18 people were injured, including 10 police officers, during the unrest. A statement by the Civil Defence Force (CDF) said an ambulance, a motorbike and three police cars were burnt in the riots.
Calling it 'a very grave incident', Singapore Prime Minister issued a statement on Monday saying, "Several police officers were injured, and vehicles damaged or destroyed. The situation is now under control, and investigations are underway. Whatever events may have sparked the rioting, there is no excuse for such violent, destructive, and criminal behaviour. We will spare no effort to identify the culprits and deal with them with the full force of the law."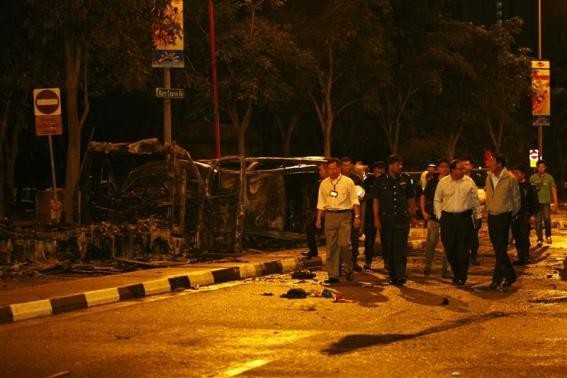 "I urge all Singaporeans to stay calm. Do send the Police any information, photos or videos of the incident that you may have. I also wish the injured officers a full and speedy recovery," he added.
Singapore Police Force Commissioner Ng Joo Hee told Reuters, "As far as we know now, there was no Singaporean involved in the riot. The unwanted violence, rioting, destruction of property, fighting the police, is not the Singapore way."
Law and Order
The island country has tough laws on rioting as a person could get a sentence of up to seven years in jail or a possible caning.
Such violent clashes were last seen in 1969, when Chinese and Malay residents battled with each other.