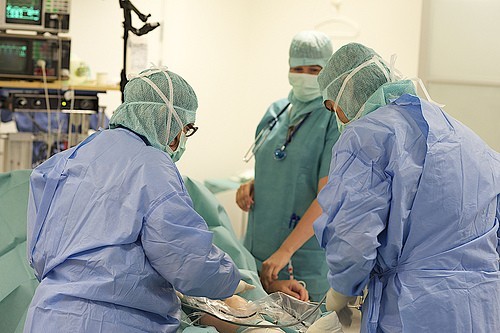 A Chennai-based banker managed to survive a heart failure, thanks to the timely action by a team of Chennai surgeons and the world's smallest ventricular assist device known as HVAD.
Dr K R Balakrishnan from the Fortis Malar Hospital in Chennai and his colleagues successfully implanted the heartware ventricular assist device (HVAD), in Satish Kumar, a 42-year-old employee in the IT section of a private bank, last month.
Satish had been under medical care since 2011, when he was diagnosed with dialted cardiomyopathy.
Dilated cardiomyopathy (DCM) is a condition in which an enlarged and weakened heart fails to pump blood efficiently. The condition can further have a negative impact on other organs like lungs and liver.
However, the disease made an unexpected appearance through a deadly attack earlier in August, when he was returning home after a family dinner. While driving, Satish felt some uneasiness and managed to stop the vehicle before losing consciousness. His heart had stopped beating completely.
Doctors at the Fortis Hospital had to give nearly 150 shocks to revive Satish. As the condition of his heart was beyond repair and as they couldn't risk his life by searching for a heart donor, doctors decided to implant the heartware ventricular assist device.
"It would take at least three months to get a heart after registering for a transplant. We did not have much time as he was suffering from life-threatening arrhythmia. We decided to use a HVAD, a golf ball-sized pump that would do the jobof a heart," Dr K R Balakrishnan, director, cardiac sciences, Fortis Malar, told The Times of India.
Satish's body was able to accept the device. His recovery was fast and within two weeks, he went back home. He said that before the surgery he "used to feel extremely weak and drowsy at work and while spending time with my wife and children. Now, just few weeks after my surgery I already feel 10 years younger; after years I am able to read a magazine completely without falling asleep mid way" India Education Diary.com. reported him as saying.
The device, weighing 150 grams, costs around
80 lakh and is manufactured by a Massachusetts-based company called Heartware.
The ventricular assist device has been credited with saving many lives across the globe. In April 2012, the small device, also known as Berlin heart, made headlines for keeping a three-year-old British boy, diagnosed with dilated cardiomyopathy (DCM), alive for 250 days. The device helped the boy survive until he underwent a successful heart transplant.