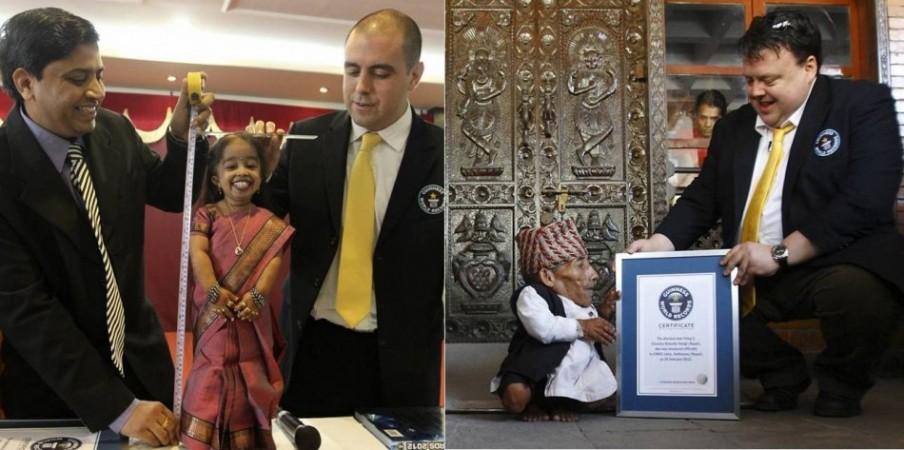 The world's shortest man and shortest woman met for the first time in history at the production of 57th edition of the Guinness World Records 2013 book.
Jyothi Amge, aged 18, met 72-year-old Chandra Bahadur Dangi in Italy where the two were pictured together for the first time during the production of the book.
Amge, who hails from Nagpur in Maharashtra, is 24.7-inches (62.8 cm) tall and became the world's shortest woman on her 18th birthday in 2011. In spite of her smaller stature not exceeding that of an average two-year-old, Agme aspires to become a Bollywood star.
Dangi, who hails from Kathmandu in Nepal, was declared as the world's shortest man this February. At 21.5-inches (54.6 centimeters) he is the world's shortest living man.
During the book production Dangi and Amge were seen laughing and smiling as they posed for photos with the new book which is 1 foot tall (30cm). They were also dressed in their respective traditional clothes.
"It was an extraordinary moment; they're both such incredible individuals. Everyone knew this was a special moment, the atmosphere was magical," Marco Frigatti, Official Guinness World Records Adjudicator who also took part in the shoot, said.
Amge will also visit UK on Sep 13 for the launch of the the new Guinness World Records 2013 book.
"Since being recognised by Guinness World Records I have been able to visit lots of different countries. I love travelling. I have visited Japan and parts of Europe and now I can't wait to visit the UK," excited Amge said.
Watch the video of the photo shoot of the world's shortest adults here: