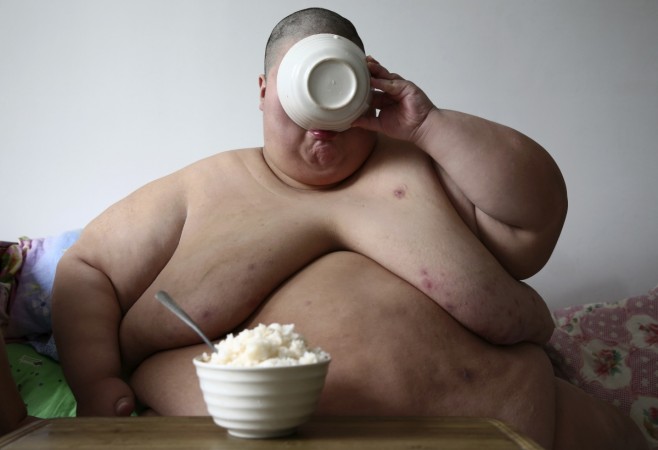 World's most obese man Juan Pedro Franco, 32, hailing from Mexico seeks medical treatment to shed weight.
Pedro weighs 500kg and was taken from his hometown Aguascalientes located in central Mexico to a private clinic located in Guadalajara city, western Mexico. He was transported with the help of a specially adapted van on Tuesday, November 15, 2016 as reported by Efe news.
Pedro will be treated by Dr Jose Antonio Castaneda and his team. Around 8,000 cases have been handled by them so far. They will be treating Pedro with the social action program of the centre.
He was accompanied by Dr Castaneda, his team along with a medical unit while going to the clinic, so he could be looked after through the journey in case of any emergency.
"Juan Pedro arrived at the Jardines de Guadalupe de Zapopan Hospital after a complex transfer," Gastric Bypass Mexico, the medical centre handling the case, said in a report.
The 32-year-old considers this to be "the start of a new life" and added that he was "grateful and hopeful" for the opportunity given to him, he said on Wednesday. He even said that he has been obese since childhood and knows he is at the danger of dying.
"At 15 I already weighed about 200 kg and my body continued gaining weight ... out of control. I come from a humble family and we didn't know how to fight against my obesity," he said, NDTV reported.
Pedro was found to be diagnosed with various obesity-related diseases like Type 2 diabetes, high blood sugar, hypertension, hypothyroidism and chronic obstructive pulmonary disease, as reported by a statement.
The entire treatment process would carry on for a span of six months, which will include his weight loss and curing of all the illnesses he suffers from and a surgery would be performed for the same reasons during the end of the treatment.
The obesity statistics of adult Mexicans is 32.4 and Americans is 35.3 percent, as per a study conducted in 2015 by Organisation for Economic Cooperation and Development.