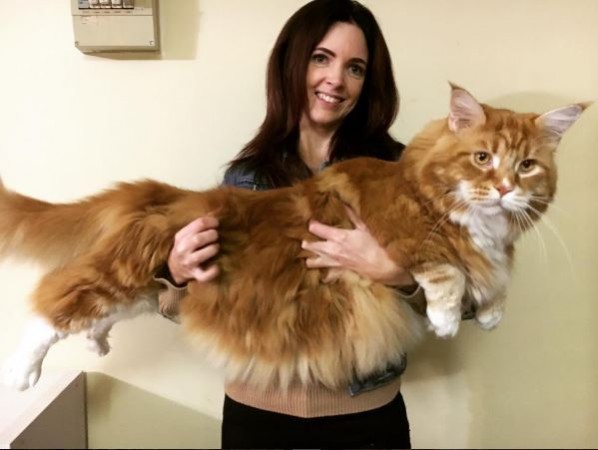 Just when we thought German designer Karl Lagerfeld's cat Choupette ruled the internet with her popularity, it now looks like she has some competition. Adorable cat Omar has shot to fame overnight and is probably the longest cat in the world.
At 3 feet 11 inches, Omar, a Maine Coon, has hogged the limelight and has also been featured in numerous newspapers and TV channels. The ball of fur with an adorable face and warm eyes even has an Instagram account and is busy stealing hearts. In just two weeks, Omar has amassed about 39.7k followers and his images are flooded with lovely comments.
However, unlike Choupette, it looks like Omar isn't very happy with all the attention he has been receiving. "He hasn't really been coping with all the attention," his owner Stephy Hirst told BBC. "He had a little bit of a meltdown this morning."
Explaining his daily schedule, Hirst told the site that Omar usually wakes up at 5.00 am and his breakfast includes dry cat food. He plays, lounges around and sleeps through the day and eats raw kangaroo meat for dinner. Hirst also said that Omar is so heavy that she uses a dog crate whenever she has to take him to the vet.
"We buy human-grade kangaroo meat at the supermarket," Hirst said, adding: "It's the only meat we could find that he actually wants to eat."
Apart from the people on social media, Omar has also garnered the attention of Guinness World Records, who said that he might just be the world's longest cat. "At first I thought 'is this real?'," Hirst told the Herald Sun. She now plans to send Omar's measurements to the Guinness representatives.
The record of the world's longest cat is currently held by Ludo, who measures 3 feet 10.59 inches long. A Maine Coon breed, Ludo lives in the UK with owner Kelsey Gill.
Check out a few of Omar's images here.