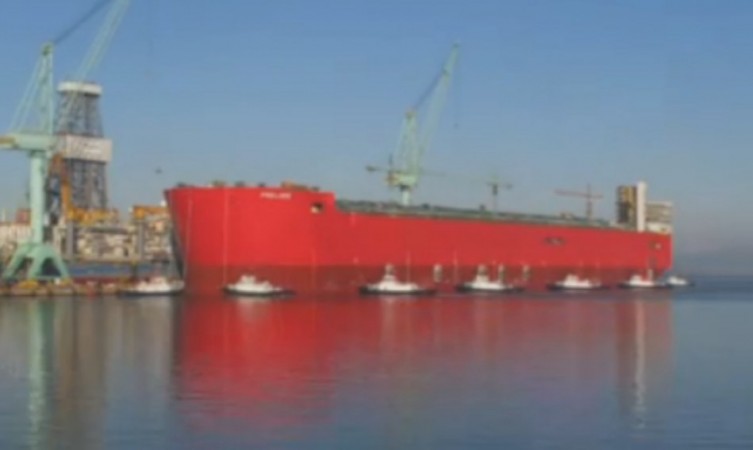 Royal Dutch Shell PLC on Wednesday launched the world's largest floating facility ever created, in the shipyard of Geoje, South Korea.
The Prelude, which belongs to Shell's Floating Liquefied Natural Gas facility (FLNG), was built with the objective of transporting liquefied natural gas. The hull weighs a whooping 600,000 tonne and stands 488 metres long.
To hypothetically estimate its massive size, if one were to clear out the deck, four full-size football pitches would fit in with still some more room left.
Analysts have estimated that the monstrous ship could have cost at least $12 billion although Shell has not revealed the actual figure, the Mirror reported.
The Prelude is anchored 125 miles off the Australian coast and will function as working spot for LPG manufacturing. It will fetch gas from under the sea bed to be exported to Asia by boats. The massive floating entity will reduce the gas volume by a factor of 600 by chilling it. The produce will then be loaded in specialised LNG tankers.
The BBC reported that the vessel would help in the production of natural gas only from 2017 and would operate for 25 years in the north-west coast of Australia. Although the area has a yearly cyclone season between November and April, the Prelude is designed to withstand such contingencies.
It has been speculated that the Prelude will produce enough gas to power a city as big as Hong Kong or two cities as big as Mumbai.