A 59-year-old Thai woman is believed to have the world's biggest hands, which weighs almost one and a half stone each, i.e., one hand is about 10 kilograms.
Duangjay Samaksamam, a shop owner from Surin Province, Thailand, is suffering from a rare and severely painful disease in which her hands are permanently swollen. The affliction is basically called Macrodystrophia Lipomastosa, which caused vast deposits of fat across her arms and hands, according to India Today.
According to her, it was difficult for her to move her hands and to perform simplest tasks, like washing, getting dressed, combing her hair, etc.
Samaksamam is going through this pain since her childhood and spent 20 years of her life being away from the outer world. She was embarrassed of her condition so she never went to school.
But sitting at home was not an option for her and she had to give up her hiding to earn a living. At the age of 20, she was forced to come out of her shell to support her elderly parents and thus she took over the family grocery shop, according to Daily Mail.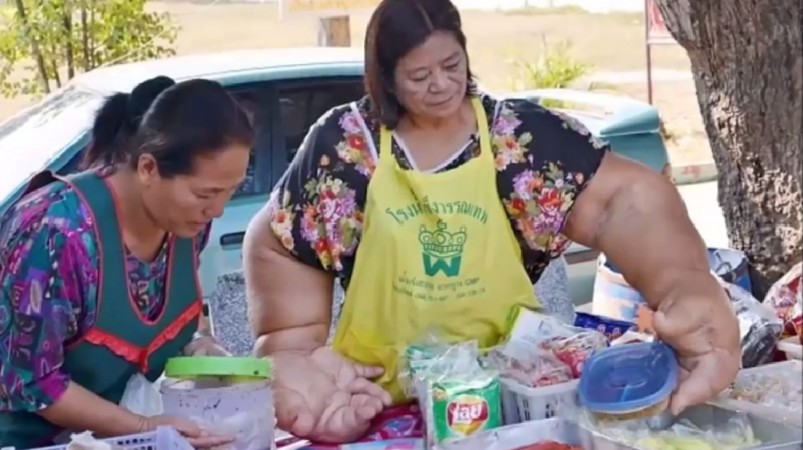 Samaksamam is agonising from the affliction for more than 50 years and had undergone many surgeries at the age of 25. But nothing helped her, instead her condition got worse.
She said, "During the surgery they didn't remove any tissue, just opened it up, opened up my arm to check it," reports Daily Mail.
"After five months my wrists began to hurt. I felt so much pain. I couldn't sleep. If I held something it would fall out of my hands because I couldn't feel them," She added.
After a month, she went through two more operations but none of them succeeded. "They removed about 700 grams of fat and blood out of my hands but after a month it just grew back," said Samaksamam.
Later on, a doctor from Kitasato University in Japan contacted her for treatment. After MRI scans it was discovered that Samaksamam was suffering from Macrodystrophia Lipomastosa.
Plastic surgeon Dr Eiju Uchinuma said, "This case is very rare. My diagnosis is that she is the first and only person in the world who has Macrodystrophia Lipomastosa from shoulders to her fingers on both arms," reports Daily Mail.
The doctors recommended her to cut off her hands in order to walk freely as it is the only cure for the disease. But she did not prefer amputation.