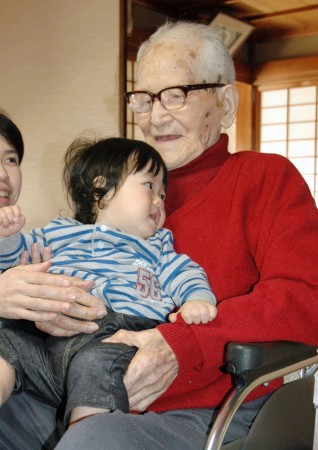 World's oldest man, Jiroemon Kimura breathed died at the age of 116 at his hometown in Japan on Wednesday.
The Japanese man, who lived in Kyotango, Western part of Japan, passed away on Wednesday after ailing from a spell of pneumonia. He is survived by his seven children, 14 grandchildren, 25 great-grandchildren and 15 great-great-grandchildren.
Jiroemon Kimura, who died at the ripe age of 116 years and 54 days, was recognized by the Guinness World Records as the 'oldest living person, oldest living man and the oldest man ever'.
Born on 19 April 1897, Kimura was credited with the title of the world's oldest man ever by the Guinness World Records on 28 December 2012, at the age of 115 years and 253 days. He broke the record of Christian Mortensen of Denmark to win the title. Christian Mortensen was born in 1882 and died in 1998.
Kimura gained the title of world's oldest living man at the age of 113 years and 360 days after the death of Walter Breuning of US in 2011. He took the title of the world's oldest living person from Dina Manfredini on 17 December 2012, after the death of Manfredini in 2012.
"Jiroemon Kimura was an exceptional person. It was a personal honour to have visited Mr Kimura at his home and be able to present him with his appearance in our book. As the only man to have ever lived for 116 years-and the oldest man whose age has been full authenticated-he has a truly special place in world history," Craig Glenday, the Editor-in-chief of the Guinness World Records, had said.
Kimura was born in the year Queen Victoria celebrated her diamond Jubilee and credited his longevity to sunlight. "I am always looking up towards the sky. That is how I am," Kimura used to say. He worked in the postal service as well as did farming at his home town.
Misao Okawa of Japan, who was born on 5 March 1898, is currently the oldest living person. She is also the oldest living women of the world.