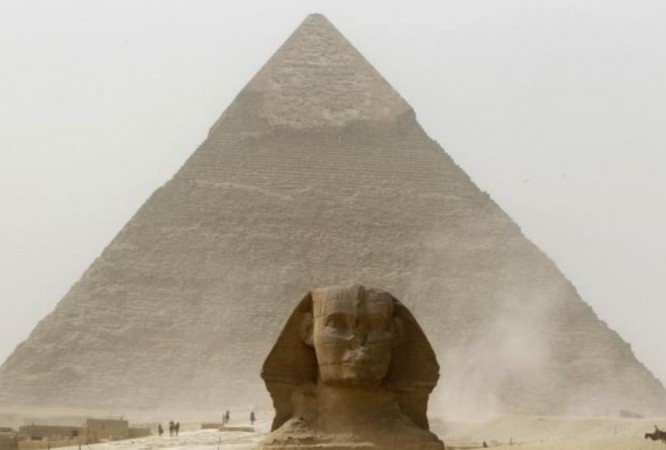 Archaeologists have uncovered an ancient commercial harbour - the oldest ever found - from the fourth dynasty King Khufu in Egypt.
The vast harbour complex was found on the Red Sea shore at Wadi Al-Jarf area, which is located 180km south of Suez. The harbour dates back 4,500 years when the second Egyptian pharaoh of the fourth dynasty - Khufu (also known as Cheops) - ruled over one of the greatest kingdoms of the ancient world.
Khufu was famous for building the Great Pyramid at Giza, which took 23 years to get completed and is one of the seven wonders of the world. Despite this achievement, very little is known about the ruler.
The newly-uncovered commercial harbour predates any previously found port structures by more than 1,000 years, Pierre Tallet, Egyptologist at the University of Paris-Sorbonne and director of the archaeological mission, told Discovery News.
It was in 1832, when J.G. Wilkinson - a pioneer Egyptologist - noted the existence of the ancient structures at Wadi el-Jarf. But. The site was not explored by archaeologists until 2011 when Pierre Tallet, an Egyptologist at Paris-Sorbonne University led a team of French-Egyptian team from the French Institute for Archeological Studies. They first studied the ancient structures Wilkinson had noted earlier in the 19th century, which is when they uncovered the oldest commercial harbour.
According to archaeologists, the harbour was one of the significant commercial ports that were used for trading trips to export copper, turquoise and other minerals in south Sinai. Apart from finding dock structures, the research team also found several anchors carved of stone, storage jars, fragments of rope and pieces of pottery, reported LiveScience.
Interestingly, archaeologists also discovered a collection of 40 papyri, which has details about the daily life of ancient Egyptians during the 27th year of King Khufu's reign. "These are the oldest papyri ever found in Egypt," Minister of State for Antiquities Mohamed Ibrahim said in a statement.
One of these papyrus documents was actually a diary of a port official named Merrer, who had helped in constructing the Great Pyramid at Giza. Merrer explained in his diary how he helped in the construction of the pyramid by travelling to the Tura limestone quarry to get blocks for building the monument.
The findings could shed light on the daily life in ancient Egypt. It could also give some insight into how the pyramid was built as well as about the bureaucracy created by Pharaoh Khufu.