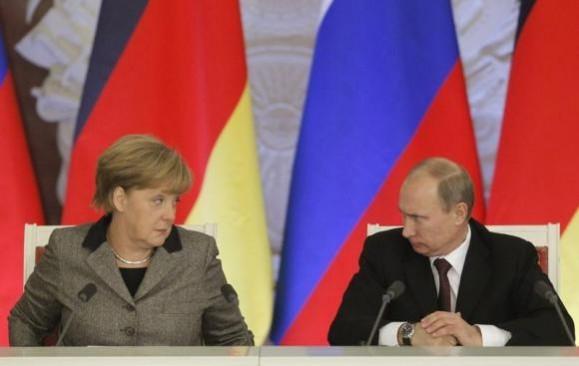 Days after President Vladimir Putin said in an interview that he had no plans to rule the country for life, a Russian newspaper's expose that he was secretly plotting to invade Europe has gone viral this week.
The report claims that Putin has far-reaching plans to secretly rule the entire Europe via a covert and a highly classified mission that has been titled: "Putin: the new leader of international conservatism."
German intelligence sources claimed that the country's only euro-sceptic party, Alternative for Germany (AfD), was being wooed by Russian agents to be part of the plot "to construct a network of right-wing populism in western Europe," The Express reported citing the German newspaper BILD.
BILD, in its report, said that Moscow's Centre for Strategic Communications had drafted a blueprint of the clandestine operation that aimed to ultimately make Putin the leader of a European-Russian entity of some description.
"In Europe Putin dreams—and he has said this publicly – of having a sphere of influence across the continent all the way down to Portugal," BILD said.
The plan is so close to reality that there is a danger of a world-war-III-like scenario, reports note. In fact, Putin has already met secretly with the leaders of several right-wing parties from European countries like France, Bulgaria, and Austria, the German newspaper's report said adding that Vladimir Jakunin, a Russian politician and close friend of Putin was allegedly behind the strategy that seeks to woo all the right-wing European parties.
The sensational expose, which was reported earlier this week, comes in stark contrast to what Putin told reporters in Sochi earlier: "We are not threatening anyone and are not planning to get involved in any geopolitical games, intrigues and especially conflicts, no matter who would want to pull us into them."
This comes days after he ruled out being a "king" of Russia when he was asked in an interview with news agency TASS whether he wished to stick to the president's chair forever.
"There are terms defined by the Russian Constitution," he had said referring to the rule that he must step down in 2024. But critics are sceptical of this words. Also important is the fact that his purported plan to rule the entire Europe is a more attractive prospect than ruling only Russia forever.