Umar Akmal played one of those innings which made you sit up and think if you were indeed watching a knock from this planet. Glenn Maxwell raised that galactico level a notch higher with T20 hitting that would have made an alien want to stay back and live in this troubled land.
The innings from Umar Akmal was worth 94 runs from 54 balls, with nine fours and four sixes, a strike rate of 174.07. The blitzkrieg from Maxwell was 74 runs from 33 deliveries, chasing a massive target, with seven fours and a ridiculous six sixes and a strike rate of 224.24. Neither batsmen deserved to end up on the losing side after bringing so much joy, but it was Australia and Maxwell that left the ground with their heads down as Pakistan, overjoyed, and back in the tournament, pulled off a much-needed 16-run win.
Thanks to that brilliant 94 from Umar Akmal, Pakistan reached a now-we-must-win-from-here 191 for five in their 20 overs. Maxwell's blink-and-you-will-miss-a-maximum knock took Australia to the brink, before some outstanding bowling from Shahid Afridi, Zulfiqar Babar, Saeed Ajmal and Umar Gul took Pakistan home in a thriller in Mirpur - Australia eventually finishing on 175 all out.
Chasing a target of 192 runs, an opening partnership of real note would be really important then...ummm... not quite. David Warner came out of his crease and outer-edged a four off Zulfiqar Babar, but looking for another boundary in just the second ball of the innings, was castled by the left-arm off-spinner.
Shane Watson came in and hit a four early on just like his teammate, and stuck to the script yet again, edging one to wicketkeeper Kamran Akmal and with it giving Babar a second wicket in his first over.
With Australia eight for two, and another 19 overs to get to that daunting target, Glenn Maxwell came in and played a T20 innings which will take some beating in the rest of the World T20.
A reverse-sweep attempt which just missed the leg-stump by a whisker off Mohammed Hafeez did not bode too well to begin with for Maxwell, but from there it was one six, a couple of fours, a six more, again and again in a loop as the Pakistan bowlers looked like they had been hit by a truck - they were not too far off thinking that, though, such was Maxwell's brute strength and hitting prowess.
While Aaron Finch was finding the fielder with every shot at one end, it did not really matter where the fielders were for Maxwell, as he kept clearing them with consummate ease.
Maxwell reached his half-century in just 18 balls - the highest by an Australian, joining David Warner at the top of the list, as the second Australia 50 came in a staggering 12 deliveries - poor old Bilawal Bhatti going for 30 runs in one over. Suddenly from a just-doesn't-look-like-we-can-make-it total, it came down to a much more makeable target of 75 from the final ten overs.
Pakistan, however, knowing their strengths, and well aware of the fact that it was about just picking up Maxwell's wicket, kept at it, even when it looked like they were losing the plot when the Australian tyro was dropped on 70 by Saeed Ajmal off Umar Gul.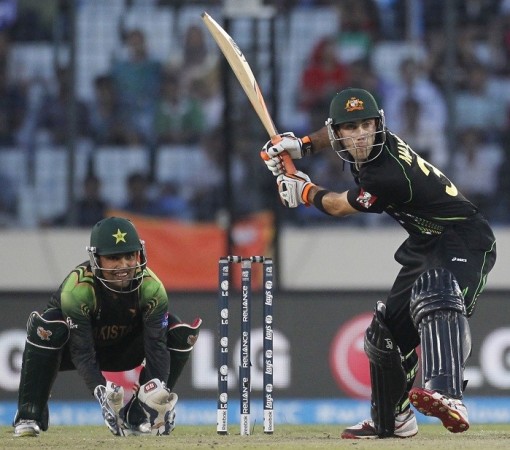 That dropped catch and the fact that the required rate had come down to near seven seemed to put Australia in a bit of a conundrum as well, with both Maxwell and Finch toning down the six-hitting a bit, with Shahid Afridi and Zulfiqar Babar, who finished with immaculate figures of 4-0-26-2, also bowling tremendously well, giving nothing away.
Maxwell's inevitable wicket came calling in the 12th over, as the batsman holed out to Ahmed Shehzad at deep midwicket off the excellent Afridi, with it also ending 118-run third-wicket partnership from just 10.4 overs.
Australia required another 66 runs from 50 deliveries at that point, and the pressure kept increasing as George Bailey and Finch struggled to get the bowlers away. Bailey fell after a nine-ball four, castled by Afridi, who finished with tip-your-hat figures of 4-0-30-2.
The final four overs, the equation read 39, but Brad Hodge joined his skipper Bailey in the pavilion soon enough, with Finch, who really struggled his way through to 65 (54b, 7x4, 2x6) unable to take control as Ajmal bowled a wonderful 18th over, conceding just a single run while also dismissing the settled batsman.
The onus was now on Brad Haddin with Australia needing 30 from the final two overs, but Umar Gul came to the fore, disturbing Nathan Coulter-Nile's timber before restricting Australia to just seven runs, leaving Bhatti to do the needful in the final over, as Pakistan picked up their first victory of the World T20 in nerve-jangling style.
Earlier, Umar Akmal was supreme, unrelenting and explosive from the highest possible order, with Pakistan riding the wave of their ridiculously talented batsman to post a score near 200.
It was not a great start for them, though, as Shehzad, after hitting the first ball for a boundary, flattered to deceive yet again, top-edging a pull attempt off the returning Doug Bollinger, into the Australia squad for the injured Mitchell Johnson, in the second over to put Pakistan on the back foot.
It got worse for Pakistan as skipper Mohammed Hafeez played-on to Shane Watson in over 5, putting the Asian side on 25 for two.
Australia were thinking, here we go then, another low score from Pakistan and a win for the taking. However, what followed was a stunning T20 innings from one of the most talented batsmen out there in world cricket.
Umar Akmal had one thought in his mind when he walked in to bat with his elder brother Kamran, and that was to take the attack to the Australia bowlers from delivery one. It was one boundary after another from then, as Umar and Kamran (31, 31b, 4x4) put on 96 in 8.3 overs, with the latter, no slouch himself with the bat, contributing just 25.
Australia did allow Umar Akmal to run away with the innings, with the right-hander dropped three times, one off a no-ball, but the first crucially by Brad Hogg at fine-leg when the batsman was only on 22, with Pakistan still up against it in the eighth over.
However, all you can do is make the most of your opportunities, and Umar Akmal did just that, and then some, as Pakistan, after a sedate Powerplay overs of 36 for two, caught fire in the next 14, scoring 155 runs.
Umar Akmal edged towards the hundred and looked primed to get to it in the final couple of overs, but a bit of cramp, the occasion and a little over eagerness proved to be detrimental, with the outstanding innings coming to an end six runs short of the three-figure mark in first ball of the last over; but by then the job was well and truly done, as Pakistan, Maxwell's stunner notwithstanding, cantered home.